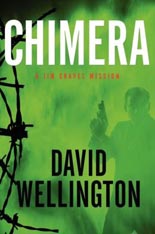 David Wellington was writing about an impending zombie apocalypse long before it became the horror genre's hot topic (his MONSTER ISLAND series). He then managed to bring vampires into the contemporary world (his 13 BULLETS series) without making them lovelorn, shimmering wimps. Then he revitalized the neglected werewolf troupe in a pair of wonderful novels (FROSTBITE and OVERWINTER). So what's next for this exceptional horror reinterpreter?
 
The answer is CHIMERA, the first in a proposed trilogy of novels that introduces a new series character, Jim Chapel. While the premise is not altogether original, it is as suspenseful, involving and as difficult to put down as anything Wellington has written.
Capt. Jim Chapel lost his left arm while serving with the Special Forces in Afghanistan. Although his limb has been replaced with an advanced, state-of-the-art prosthetic, his duties have been reduced to a boring desk job. That is, until he is summoned to a private subterranean office at the Pentagon and assigned to a secret mission.
 
A few days prior to this meeting, a hidden military facility was bombed and its small band of detainees escaped, leaving a bloody trail of bodies in their wake. Now the escaped prisoners have dispersed across the country and are hunting down certain individuals. Chapel is assigned to find these escaped detainees and stop them before they kill their intended victims.
 
Chapel is told very little about the escaped prisoners, except that they are all exceptionally dangerous. In his first encounter with one, he immediately sees that they posses superhuman strength and agility, and all have eyes that are completely black from side to side.
 
As Chapel continues his mission — assisted only by a resourceful hacker he calls Angel, who is a sultry voice in his Bluetooth earpiece, and Julia, a beautiful veterinarian he rescues along the way — he eventually discovers that the prisoners are the mutant results of a clandestine genetic experiment. Their DNA has been spliced with that of several different species, resulting in their dangerous powers, and their code name: Chimeras.
 
With time running out, Chapel must determine if these mutants are the results of a project gone terribly wrong, or are they the enforces in a complex governmental scheme; and who are the diverse, seemingly unrelated names on the Chimeras' kill list?
 
Readers of contemporary horror thrillers — and especially those who follow reviews on this site — will immediately recognize the similarity between this new Wellington series and Jonathan Maberry's excellent Joe Ledger novels (PATIENT ZERO, EXTINCTION MACHINE and others).
 
The basis of both is a resourceful, military trained individual pitted against villains who are the results of mad scientific experiments. But that is where the similarities end. Whereas Maberry's Joe Ledger heads up a team of scientists and soldiers who battle mutant foes, Chapel is set out on his own with little prior knowledge of what he's up against.
 
Of greater note are the stylistic differences. Maberry luxuriates in his pulp sensibilities, shifting the focus between major players and time settings. Wellington is significantly more somber, keeping the focus primarily with Chapel and in the present as the narrative unfolds. Maberry delivers the kind of visceral, colorful thrills you get from a really great graphic novel, while Wellington's series debut feels more like a finely crafted, thought-provoking mystery novel.
Both, however, include enough cliffhanging action and unexpected plot twists to keep the pages turning until the very end.
 
Stories about zombies, vampires and werewolves existed long before Wellington took them on. So there's plenty of room for another take on the "man against deadly mutant armies" theme.
 
Regardless of your familiarity with the Maberry series, Wellington's CHIMERA is highly recommended because of its diverse and credible characters, as well as its confident, skillful structure and prose throughout. All hallmarks of one of the finest authors working in today's horror genre. —Alan Cranis