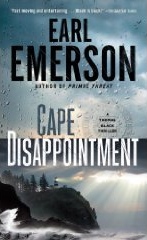 CAPE DISAPPOINTMENT is Earl Emerson's latest Thomas Black thriller, but readers new to the author or the character need not be afraid; the book stands on its own, pleasantly devoid of hindering references to past storylines. Readers are introduced — or reintroduced, as the case may be — to Black immediately after a bomb goes off in a local high school gymnasium, targeting state Senate candidate James Maddox.
The first chapters follow Black's confused and tortuous recovery, as he tries to piece together the facts of the past few weeks of his life. Upon each awakening, he must come face to face with the fact that his wife is dead, killed only weeks earlier by an unexplained plane crash that also killed his opponent.
Sound like a series of strange coincidences? It is, and at first, I was skeptical. But Emerson's clear grasp of Black, combined with a skilled maintenance of the character's voice, carry the reader safely through the twists and turns to come. As Black slips deeper and deeper into a world of conspiracy theories, each presented by a half-crazed, alcoholic, ex-CIA operative named Bert, the reader is left to piece together what information is available through Black's incoherent memories of the plane crash, the bombing and the events surrounding both.
Bert's ramblings are at times lucid, at times so far-fetched as to be impossible, keeping both Black and the reader in a state of confusion. Did his wife really die in the plane crash? Was the plane crash really an accident, or was it murder? Is the FBI investigating or covering up? How far can Black push before someone pushes back?
For those worried about a confusing or complicated storyline told completely through the eyes of a recovering bomb victim, rest assured. After a few chapters of coma-recovery babble, Black slips easily and almost imperceptibly into a chronological history of the events of the crash. Before you know it, the story has come back around to the bombing, picking up where it started and continuing on without hesitation.
Emerson's writing is fast-paced, but never so much so that events become unbelievable or hard to follow. When developing backstory threatens to slow the plot, subtle but important allusions to future events keep things moving. A few of the plot twists stretch credibility about as far as it can go, but these are balanced the carefully thought-out and well-executed details of the rest of the story, making the work an entertaining and captivating story of murder, conspiracy and political cover-ups. —Kerry Serini