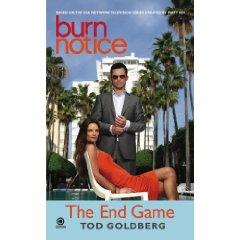 With the words "When you're a spy," BURN NOTICE: THE END GAME begins and the Jeffrey Donovan voiceover kicks in. Really, it's impossible to separate Tod Goldberg's novel from the TV series on which it's based, but since that series happens to be one of my favorites, I don't see that as a negative.
In this second go-round, former spy Michael Westen is approached — as he always is — for a favor to help someone in need. That someone is Gennaro Stefania, who married into an über-wealthy family that may or may not — let the Italian names be your clue — have ties to the mob.
Stefania's wife and daughter have been kidnapped, and the ransom for them is most unusual: Their captors don't want any money — at least not from him. They simply want him to lose the Hurricane Cup, the big, two-day yacht race for which he serves as a ship helmsman. He has to race; he just can't win.
So what's the problem? Background muscle has seen to it that his ship has come in first in the past, and all indicators point to the wheels being similarly greased for this one. And when the mob invests, it expects a serious return on investment, leaving Stefania in quite the pickle.
He's come to the right man for help, as Westen is the master of the ruse. Westen's plan entails creating and assuming the role of mob man Tommy the Ice Pick, and telling the other guys to back off. It's ballsy, but then again, those are the kind of scenarios that make the show great, and viewers know they don't always go as he hopes.
The one real drawback to the novel is not being able to see Donovan's Westen affect some goofy accent, mannerisms and dress to pull off these operations. Each episode tends to allow him such a showcase for his comedic talents. It's one thing to picture it, but an altogether other thing to witness it.
On the flip side, nonviewers won't know what they're missing, and appreciate it as is. And it is fun, capturing the show's joyous, jubilant essence, but not, sadly, shots of well-endowed women in bikinis. Compared to the previous book, BURN NOTICE: THE FIX, Western's beer-guzzling, ex-SEAL pal Sam Axe seems to take a slightly larger role, and is-she-or-isn't-she girlfriend and former IRA operative Fiona takes a slightly diminished one, figuring more into the action late in the game.
The book is quick, snappy and forever mirthful — just like its source material. And until that starts back up in the summer, this is a fine substitute for a weekly fix. —Rod Lott
OTHER BOOKGASM REVIEWS OF THIS SERIES:
• BURN NOTICE: THE FIX by Tod Goldberg