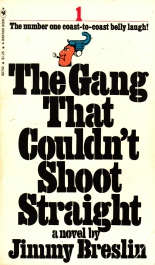 I read a whole lot of depressing books for this column, with people killed in the most brutal ways. So let me take a small respite with some novels that promise a few chuckles. Actually, the first two are the humorous ones, while the writer of the third just puts a smile on my face whenever I read one of his countless titles. Next week, we'll be back to all the doom and gloom.
THE GANG THAT COULDN'T SHOOT STRAIGHT by Jimmy Breslin — Breslin is the last of his breed: one of those characters out of a Damon Runyon story. Having read his column through my years of college, I never got around to reading one of his books until now. The best way to describe this 1969 novel is imagine if THE GODFATHER was made up of every comic character or schlub in all of crime fiction. I'm talking a mob made up of nothing but Fredos.
The book itself is packed with variety of humorous characters, with Breslin providing character sketches for all of them. But the story mainly focuses on three. The first is that of Kid Sally Palumbo, who leads a gang of misfits that makes The Three Stooges look like geniuses. Breslin gives a history lesson of Kid Sally's upbringing in the crime world with his usual disastrous results. Case in point: In his first attempt of an insurance fire all done by himself, Kid Sally forgot to do one key thing in hiding the evidence.
But that is only a small cog in what makes Kid Sally go. His sister Angela is trying to lead a straight life, going to school while avoiding her brother's operation, only to be accused of being a part of the gang whenever the cops feel as though something is about to go down. Then there is Italian immigrant Mario Trantino, who came over for a bicycle race that had hilarious results and stayed in the country, pulling scams while dressed like a priest, guilting Italian-Americans into sending money back to his hometown, with Mario taking half for himself. He also pawns himself off as some artist, making copies of other people's work, only changing the faces.
It all leads into a gang war with Kid Sally trying to wipe out his competition, namely one man named Baccala. The book is 40 years old and some of the humor plays on ethnic stereotypes, with some people adding "a" to the end of every word. Also, there are scenes that will make some readers cringe with the racist terms thrown around. Still, Breslin makes his crime novel a true original, not the belly laugh-inducer as the cover suggests. But there are laughs, just a bit dated. Some have aged well like wine, while others have aged as well as milk.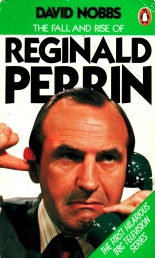 THE FALL AND RISE OF REGINALD PERRIN by David Nobbs — Originally published as THE DEATH OF REGINALD PERRIN, this 1975 novel got its new title once the TV show of the same name aired in the late '70s. I remember seeing the show as a youth and not understanding all the humor. It was not geared toward the youngsters, but it came after MONTY PYTHON, so I figured it must be funny, which it is — not just funny, but hysterically funny, especially after revisiting it via import DVDs.
The odd thing was, I did not realize it was actually a book until much later. It deals with 46-year-old Reginald Perrin, a man who has had a career working for Sunshine Deserts. Slowly, we witness Reggie have what can only be described as a mental breakdown, to the point he unsuccessfully tries to have an affair with his secretary, which is derailed by his own family visiting the weekend he tries to make his move.
But that is only the start of a downward spiral for Reggie, since he then acts out by bizarrely substituting weird words for what he really means and referring to his mother-in-law as a hippopotamus. It all builds to the point of a conference where Reggie is to give a speech; there, the final straw is broken and he delivers one of the most truly bizarre, hysterical speeches, all the while drunk.
It's then that Reggie knows what he has to do: Off himself … or make it look like he killed himself, and take up a new life under a variety of guises. Nobbs' writing balances the humor with the total seriousness of what Reggie is actually doing. I mean, the basis is that he makes everyone think he killed himself by throwing himself into the ocean. This is not normal in any era. Yes, you will laugh throughout, but you also have to realize what is he is doing is completely mad.
For people who have seen the series, all those classic moments are all in there. Except there is one little subplot that was totally cut out, which deals with Reggie's daughter and his brother-in-law, which was probably a bit too risky for '70s TV. The book leads directly into the second book, which was written along the same time as second season of the show.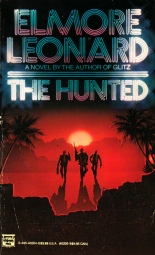 THE HUNTED by Elmore Leonard — By the time this 1977 book came out, Leonard was associated with his Westerns and crime books set in Detroit. So what is a writer to do to really change things up? How about make a sort of modern-day Western set in Israel?
Al Rosen was living a quite lifestyle in Israel after giving up some business associates back in Detroit who he thought would never find him … until Al played a hero, helping tourists get out of a hotel fire. Al unknowingly is featured in a newspaper picture that is plastered on every major paper in the states. His own company wants him and is giving him one last payoff, since he has been getting a steady stream of payments from them for the past three years.
A marine by the name of Davis has been a small cog in this operation by bringing these shipments of cash to an Israeli girl, who would then pass them up to Al. But now with some heavy hitters in town making no bones they are on the path to find Al, HUNTED moves into Western territory, with a climax taking place in a deserted old town with guns and C4 blazing.
Leonard seems to relish in the idea of taking his type of crime novel and moving it into a much different setting, while still keeping all those trademarks we have come to expect from him, including men who stick to principles and won't give up in a fight, even when they have nothing to gain from the outcome. These are the type of men you want on your side when the shit hits the fan.
THE HUNTED is not considered his best work, but more of a fun exercise to try a few things out. But don't let that dissuade you from picking it up. I mean, once things really start to pick up, you just enjoy the path Leonard has laid down. Plus, his lesser work is still better then a ton of the crap that clogs the bookshelves, and his novels are among the easiest to find in used bookstores.
Next time: the food and beverage industry. —Bruce Grossman
OTHER BOOKGASM REVIEWS OF ELMORE LEONARD:
• MR. MAJESTYK by Elmore Leonard
• RUM PUNCH by Elmore Leonard
• THE SWITCH by Elmore Leonard