Welcome to column number seven of BULLETS, BROADS, BLACKMAIL & BOMBS, a never-ending dip into my pile of pulp paperbacks. This one was a bit tougher than the others since I wanted to give up midway through a couple of this week's titles, which include a man from U.N.C.L.E., a ninja, a no-name spy and a reformed thief who is now a secret agent.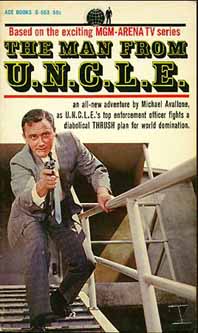 THE MAN FROM U.N.C.L.E.: THE THOUSAND COFFINS AFFAIR – With all the TV show tie-in novels appearing on the shelves today (CSI, BONES, MONK and 24, to name a few), I figured it was about time to finally open one … from several decades ago (1965, to be exact). Now, I'll assume most of you know of the mid-'60s MAN FROM U.N.C.L.E. TV series – one that was pretty much inspired by the Bond movies, with Robert Vaughn as secret agent Napoleon Solo. The tie-in books are an extension of the show, with scenes and themes which TV could never show at the time.
Michael Avallone's THE MAN FROM U.N.C.L.E.: THE THOUSAND COFFINS AFFAIR starts out with Solo trying to score with a lovely lady. Well, guess what, Solo? She's an agent of T.H.R.U.S.H., your enemy, which tries to kill both of them with some sort of sound machine that will blow their heads off, SCANNERS-style. Once Solo makes his escape, an U.N.C.L.E. scientist is found dead, so his mission is to pick up the body and bring him back to the States. From there, Solo meets a female agent from the U.S. government who is investigating the murder, and both are captured by T.H.R.U.S.H.
The enemy this time is Golgotha, a man who so badly burned in an explosion that his face just resembles a skull. T.H.R.U.S.H. has developed a pellet that not only drives the infected insane before killing them, but also decomposes the bodies decompose down to the bone in about three days. Look, folks, this is not Shakespeare (or, for that matter, Nick Carter). This reads like a TV show plot with gorier details, because I don't think naked torture would really fly on the tube back in the '60s. I have to thumb my nose at AFFAIR for giving away the solution to a Ellery Queen novel I hadn't yet read, THE CHINESE ORANGE MYSTERY." The only reason I bring this up is that the solution to that story doubles as a huge clue to this one. Maybe at some point I'll delve into another U.N.C.L.E. book, when I have a few hours to kill.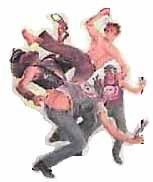 NINJA MASTER #3: BORDERLAND OF HELL – Brett Wallace is back in action in another high-kickin' tale of revenge. I just don't get who NINJA MASTER #3: BORDERLAND OF HELL is targeting, as the cover screams, "Buy me, kids!," but the story is incredibly graphic in terms of violence and sex. The first chapter alone features a gang rape and the castration of a peasant farmer.
This 1972 tale in Wade Barker's NINJA MASTER saga takes place in Mexico, in some forgotten area run by the retired Gen. Estrada. To be brutally honest, I don't know why I even stayed with the whole thing, since the story consists of a kidnapped Asian girl being passed around like a party favor, forced to performed all kinds of sexual favors. Of course, Brett goes down to Mexico to save her with his ninja skills, walking into situations set up to show off just to demonstrate that Brett is a ninja. This book takes a page from the old KUNG FU TV series, with Brett having flashbacks to his ninja training; the only thing missing was him being called Grasshopper. I should've learned from the first NINJA MASTER installment what to expect, but I just could not believe I was facisnated by this story like some people are with car wrecks.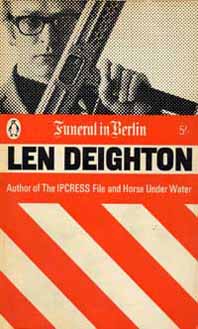 FUNERAL IN BERLIN – From 1964, Len Deighton's FUNERAL IN BERLIN is the third adventure of our anonymous, working-class spy. For those unfamiliar, Deighton is the anti-Fleming; his spies actually worry about paying the expense reports and live very modest lives. This time out, our spy is sent to Berlin to see about the transfer of a scientist coming to work for the British, while simultaneously investigating if a double agent by the name of Vulcan is now in business for himself. But as the story unfolds, it becomes apparent that the scientist is only secondary to what is really going on: namely, a plot to claim millions sitting unclaimed in the Swiss banks.
The structure for FUNERAL is great, with each chapter describing a chess move or procedure, and most of them actually apply to the action going on within those pages. As the no-name spy makes progress and plays by his own rules, he's constantly pitting one person against another to let the truth rise to the surface. For those who think the only spy fiction is some Ludlum or Le Carré tome, try some Deighton. His spies are probably the most realistic you will ever come across.
MODESTY BLAISE: LAST DAY IN LIMBO – Long before Jennifer Garner was shooting people, stealing all kinds of weird items and performing amazing stunts on ALIAS, her forerunner was Modesty Blaise. Now, if you expect the full-on action that ALIAS offered, look somewhere else. MODESTY BLAISE: LAST DAY IN LIMBO marks my second time reading one of Peter O'Donnell's Blaise books (the other being SABRE-TOOTH), and I just don't get it; a whole lot of nothing happens between very short scenes of action (just like the recent Quentin Tarantino-produced Blaise movie). I've heard the comic strips are a lot better and maybe that's what I should try and find, since the novels leave a lot to be desired.
This 1976 entry deals with a slave labor camp where all the servants are rich and important people who've been kidnapped and assumed to be dead. We're never told why the camp exists or why these people were chosen; the book just goes on switching between scenes of the camp and scenes of sexy spy Modesty and her trusted henchman, Willie Gavin. What little action does happen goes by so fast, you have to re-read it to make sure you didn't miss something. The rest of the story just drags on for pages at a time.
I know there are plenty of Modesty Blaise fans who will disagree with me and maybe I get spoiled reading all the other spy stuff. But what really made me nuts is that the author gives away a whole plot to another Blaise book altogether: I, LUCIFER, which I also own. Thanks, Pete – I guess I can put that in my "already read it" file since I know how it ends and what happened. So if anyone wants to buy my copies of I, LUCIFER; LAST DAY IN LIMBO; SABRE-TOOTH and DRAGON'S CLAW, drop me a line and I'll sell them at a nice discount. –Bruce Grossman
MISS EARLIER INSTALLMENTS OF 'BULLETS, BROADS, BLACKMAIL & BOMBS'? REGASM THESE:
#6: No Martini Drinkers Here
#5: Cheese 'n' Sleaze
#4: A Rabbi, a Priest, a Pusher, a Queen
#3: Smells Like Hi-Karate
#2: My Name Is Erle