To paraphrase a line from the old Marvel Comics mail pages, make mine Spillane! This week's column is all about the man, Mickey Spillane. So break out your fedoras, pour yourself a glass of your favorite beverage (be it alcoholic or otherwise) and settle back for three tales of broads and bullets. As some might have figured out, my column title is nothing but love for Mr. Spillane, so if anyone out there has any contact with him, get me an autographed photo. You may think it's shameless of me to use this space to make such a request, but come on, folks – Spillane! Anyway, I'll be covering three titles that are not among his most well-known since none of them are Mike Hammer stories.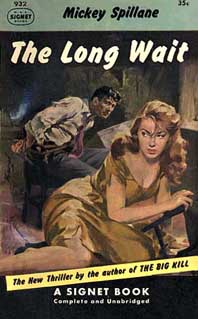 THE LONG WAIT – There are two kinds of Mickey Spillane books: the kind you can fly through with no problem, and the kind that their time and draw you in to savor any little detail it gives. THE LONG WAIT is the latter. Published in 1951, the story deals with Johnny McBride returning to his hometown after five years, and most people who remember him wonder why he came back at all. It seems that Johnny was framed for murder of the D.A. and stealing funds from the bank. Spillane tells this story by giving out info in little drips. This is not a Mike Hammer novel where the main character just goes in guns a-blazin', but there are similar moments.
Right away the cops pick up Johnny, since they have a set of prints on the murder weapon they'd like to match up. But Johnny's prints have been lost due to an explosion at the mining camp at which he worked. Here comes a very minor spoiler: Johnny McBride is not really Johnny McBride, but someone who resembles him and swore to himself that he would clear McBride's name at all costs. As we're told, his main goals are to kill one man, break both arms of another and scar the women who betrayed McBride.
What's great about Spillane is that just as you feel the novel is about to go one way, he completely changes the pace. You think you have it all figured out, then – heads up! – here comes the monkey wrench. Also, THE LONG WAIT has officially one of the coolest lines about a woman in any book. And I quote: "She was oozing out of a bikini suit like toothpaste out of a tube." Beat that! If you've never read any Spillane, this is as fine a place to start if you come across it. It gives you all the trademarks of his writing: snappy dialogue, descriptions of dames like no other and, of course, great twists.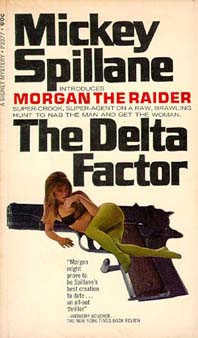 THE DELTA FACTOR – Hitting a bit of a rough patch or a minor speed bump on the Spillane highway is 1967's THE DELTA FACTOR, which I'm guessing would've been a new series for the author – one that introduces Morgan the Raider, a super crook turned government agent. We're introduced to him as awaits arrest in a hospital, for supposedly stealing $40 million, all of which has gone missing. So an unnamed government agency gives him a bit of a reprieve, sending him to a Latin American country to bust out a man who has government ties and can't fall into the reds' hands. Morgan is saddled with a female agent who pretends to be his wife on the assignment.
This FACTOR tries to cram way too much into it, including a woman being held against her will, a group of freedom fighters and a heroin ring operating out of the prison. I think if Spillane just stuck with Morgan and his mission, the series probably would have continued. It also seemed that everyone (and I mean everyone) knew who Morgan was once he said his name. (The only time this really worked was in ROAD HOUSE, the only bouncer movie you ever need to see.) Look, if you're going to search out Spillane, try some Mike Hammer first, unless you want a spy bent, then try the Tiger Mann series. Random note: Throughout the whole book, I imagined Morgan was portrayed by Brock Samson. Go Team Venture!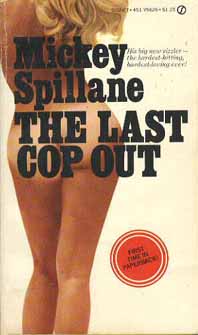 THE LAST COP OUT – To finish off this column, we have a first for all the Spillane I've read so far: Everything is told in the third person. I know that's not really a big deal, but for any Spillane readers, you can relate. It works out great in 1973's THE LAST COP OUT, a story of a cop shoved off the force for being set up years ago, then brought back once a bizarre series of gangland slayings has started.
Gill Burke is the framed cop pulled back into action to figure out the mess. The killings grow more bizarre and it seems that different people are committing them, even though they're all top-echelon mobsters. This causes friction within the mob itself, with everyone thinking that one of their own is behind the operation. Wer'e introduced to about four of them, each with his own agenda, including Papa Menes, an old-time mob guy who thinks he has it figured out, and Marc Selby, an up-and-comer who has his own theories and is relishing in them. The other two are more of your enforcer types who meet an end I would not wish on anyone. Be forewarned: There is a killing in this book that will make every guy just cringe. It's told so graphically that I got the shivers just thinking about it.
While all this is going on, Burke is reinvestigating the case for which he was framed. It seems there is a connection between it all. THE LAST COP OUT is a nice change of pace for Spillane, without the tunnel vision you usually get reading any of his other books. It features probably the most graphic sex for a Spillane novel and even an uncharacteristic bit of homophobia. The only thing that made me a bit upset was I figured out who was behind (pun not intended, given the ass-tastic cover) the whole thing really early, but it did not take away from the enjoyment of a damn great read. –Bruce Grossman
MISS EARLIER INSTALLMENTS OF 'BULLETS, BROADS, BLACKMAIL & BOMBS'? REGASM THESE:
#7: Still No Martini Drinkers Here
#6: No Martini Drinkers Here
#5: Cheese 'n' Sleaze
#4: A Rabbi, a Priest, a Pusher, a Queen
#3: Smells Like Hi-Karate