Welcome back, my friends, to the column that never ends. This time around, a trio of pulpy paperbacks you easily can find in a good used book store or an online search. I present two long-running series and a incredibly short run for a book so much in the '80s vein.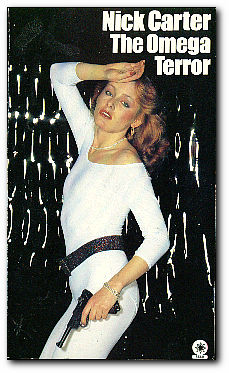 THE OMEGA TERROR – Okay, I've covered many a Nick Carter tale over at the By-Pass, so you might want to take a gander at THE OMEGA TERROR. In another of the neverending adventures of Nick Carter, Killmaster, we find our intrepid spy on a vacation in Madrid for like a minute. As Nick goes to his hotel room, he finds a very naked and very willing girl there. This, I think, is probably one of the only times in the whole series Nick does not have sex. Yes, you read that correctly: The man who never met a single girl he didn't bed passed on a freebie.
After he escorts the girl out of the room, he finds a "get out of Madrid or else" note in his bathroom. Nick meets up with his boss Hawk and is told he has to leave right away for Morocco to either kill or bring back a scientist by the name of Zeno, who is developing a deadly virus that can wipe out the world, and is in bed with the Chinese. Typical for any Nick Carter book, the enemies are either Communists, Chinese, Arabs or some other fanatical foreign race. Nick is instructed to meet up with a scientist who is a plant inside the compound. But, oh, no, once he arrives, he finds out his contact has been killed, but his daughter can help out.
No form from here on out; just typical Nick Carter, full of brutal violence and also a little sex. For those of you out there who have played the sneaking into the base segment of METAL GEAR SOLID for the original Playstation, imagine that in the desert and you pretty much have the rest of the book. Nick, of course, saves the day. What, did you think he would fail? For shame. There are some great segments in this little tale, but that's common for this type of guilty pleasure.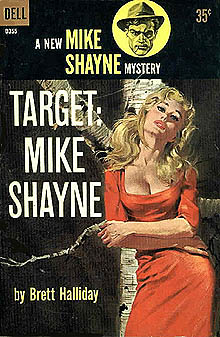 TARGET: MIKE SHAYNE – Another detective series with some great covers, especially the photo ones. I've got more than 20 books in Brett Halliday's Mike Shayne series, but TARGET: MIKE SHAYNE is the first I've ever read. We start out with a man named Clayton, getting out of prison after 13 years. He's met by a girl he can't place, but she sure knows him, having accompanied him on his last job when he got caught.
Miriam, the girl, tells Clayton of a job she has planned to rip off an illegal gambling ring. But all that's on Clayton's mind is to exact revenge on Mike Shayne, the man responsible for putting him away. So as the tale progresses, Mike's car gets sabotaged and kills a would-be car thief. There is only one witness: a visiting businessman by the name of Brumholtz. From what I can tell, Mike is not someone who takes this kind of thing lying down, but is forced to cooperate with the police. The novel alternates between the two sides of the stories to great effect.
I have to tread lightly, so not to give away the big surprise toward the end, but trust me, folks: It's a big one and it hits like a ton of bricks. I really enjoyed this one, but sadly, it was written by one of the ghostwriters, Robert Terrall. Halliday really did write a bunch of Mike Shayne mysteries from 1939 to 1958, but from then on, it was house authors all the way.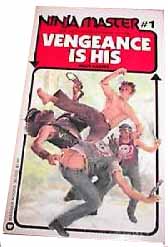 NINJA MASTER #1: VENGEANCE IS HIS – Oh, to go back to the heyday of bad '80s action TV, like THE A-TEAM and KNIGHT RIDER. Imagine those series in book form, with karate thrown in, and that's what the NINJA MASTER series is all about. While reading this, I actually kept a running set of notes, for the simple reason there is so much ridiculous stuff that happens in Wade Barker's 187 pages.
We are introduced to Brett Ashford and his family, including his lovely Japanese wife Kyoto. But that doesn't last long, because on page 13, his whole family is brutally killed by bikers on angel dust. The hunt is on for the gang, but once arrested, they're let go due to a technical loophole. Oh, did I forget to mention that while in college, Brett went to Japan where he met the head ninja? A year passes, during which time Brett liquidates all his assets and places the money under a new name, Brett Wallace. This all happens within the first 40 pages. This book is just crammed to the gills.
Brett has a plan of revenge laid out that would make Quentin Tarantino proud. Once he's buried all evidence of the killings, he flies to Tokyo to meet his former master Yamaguchi, who takes him to the city of Kanazawa, where Brett's ninja training takes nine years, but in book form, only takes one paragraph. Back to San Francisco, Ninja Brett vows to use his skills to benefit the less fortunate. He is pretty much a one-man A-TEAM now. Again, folks, I'm not making this up.
From here on out, we meet the rest of the series' regulars: Rhea, a Japanese women whose grandfather was a ninja, and Jeff Archer, another lonely karate expert. Let the typical '80s TV action begin: Brett goes to L.A. to clean up the neighborhood run by a brutal gang. They set Jeff Archer's grandmother on fire. Brett sets up home in a new apartment, meeting all sorts of people who come to help him out. I could go into graphic detail of what takes place, but I think you can pretty much figure it out, with Brett using his skills to kill the gang leaders and such. Then he quietly makes his getaway like Michael Landon in HIGHWAY TO HEAVEN.
Now there's a show that needed an action sequence every once in awhile. The only thing missing from this book is at the end, with Stephen J. Cannell writing at his typewriter, then pulling out a piece of paper that floats into a pile. Look, I liked this book for all its cheesiness, plain and simple. I have three others, so I might crack open another one if I have a few hours to kill.
Up next time: a tale about a rabbi, a "Priest," a pusher and probably a spy! –Bruce Grossman