The aggressor brand of hero. Men with chips on their shoulders. Their families killed in front of them. Lone-wolf types. They're so prevelant in action movies, I figured it was about time to cover some of them here. One of these three still lives today, publishing new books monthly.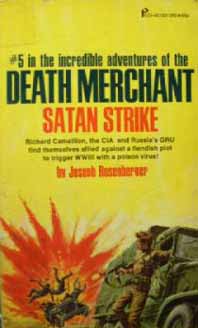 DEATH MERCHANT #5: SATAN STRIKE by Joseph Rosenberger –  This has to be a first for me: an action hero with less personality then a plant and blander then a rice cake. In this 1973 paperback, Richard Camellion is the Death Merchant, aka the man they call in when the FBI and CIA can't handle the situation. Well, as long as it does not involve public speaking. I mean, this guy is Nick Carter without the sex and Sam Durell without the passion, but he does have a wonderful makeup case. Yes, that's his gimmick: This Dick is a whiz at disguises. Well, I wish he would have disguised himself with more character, like, say … oh, Ben Stein.
But enough of the character bashing; let's get down to brass tacks: Some lunatic is bent on conquering the world with a deadly virus. Where have I read that before? Now, where our hero is totally lacking of anything interesting, the villain – one Jean Pierre Duvessalines – is just popping with personality. This guy is just evil with a capital E. He tests out a serum on his own folks, and he kills little kids and old folks. The scenes with Duvessalines are what make this book enjoyable; he is just so over-the-top.
So if the Death Merchant is such a badass, why in the fifth book is he already teaming up with enemy agents from Russia? Maybe the writer did not find his niche early on. I know this series went on for a while, and I've got others, so perhaps we'll see in future columns. But I'm certainly not rushing to find out.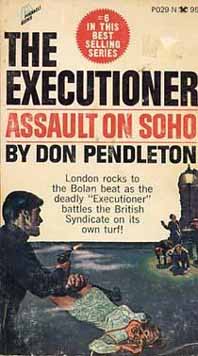 THE EXECUTIONER #6: ASSAULT ON SOHO by Don Pendleton – Hey, everyone, it's the character Marvel ripped off for The Punisher! Don't believe me? Let's go down a little checklist:
• Vietnam vet;
• family killed by the Mafia; and, of course
• takes out his vengeance on the mob.
If that does not settle it, I don't know what will, short of a skull-emblazoned T-shirt. Ah, Mack Bolan – aka The Executioner – has a score to settle and nothing is going to stop him.
Unlike other series, this 1971 entry seems to have a lot of continuity with the earlier novels, with characters referring to events from the five books prior. But don't let that stop you if you haven't read them; I think most people here understand the hero always comes out on top.
This time out, Bolan heads for England after his escapades over in France (THE EXECUTIONER #5: CONTINENTAL CONTRACT). Once there, the cops are already on the lookout for him. He is not yet the super spy he will become later on in the series, but is still a vigilante with revenge on the brain. He meets up with a women named Ann Franklin, who comes to his aid with promises of keeping him safe if he can help her out. She's in league with some sort of fetish club being blackmailed by the mob, so it's up to Bolan to not only avoid the CID and Mafia, but also to rid the island of them.
Bolan is a bit of a cottage industry for this type of book, having multiple spin-off titles with his name associated in some way. Pendleton wrote the vast majority of the series until, I believe, 1979; from then on, it's been ghost writers. It's mindless violence we can all appreciate, which won't tax your time or your brain.
THE PENETRATOR #9: DODGE CITY BOMBERS by Lionel Derrick – I get the feeling most Vietnam veterans have a cache of weapons and a pissed-off attitude. Since Mark Hadin – aka The Penetrator – is another in the long line of them, which I find really funny since I've worked with some vets and they could not have been nicer. What sets Mark apart from someone like Mack Bolan is that Hadin is a half-Indian – the BURY MY HEART AT WOUNDED KNEE kind.
Judging from this 1975 offering, Hadin's backstory is not as clear-cut as Bolan's, although we do know his wife was killed in some horrific way, setting him on the path to clean up problems working above the law. Also, there is a branch of law enforcement whose only job is to catch this deadly Penetrator, since they think he is behind all the other killings from previous books.
This time, Hadin is sent a letter from one of his contacts talking about some group that has been torching farms and ruining crops. Hadin finds out who's behind it: The Shadowmen, a ruthless bunch of ex-hippie types.
There are some scenes of brutal violence in this book; not just Hadin exacting revenge on the gang, but the gang tormenting farmers and their families. One scene in particular is not for the squeamish, involving he use of a sharp blade on a 9-year-old's fingers. Actually, this book blows away the violence in the Executioner book in no time flat, right down to the FARGO-like killing of the big boss behind it all. So here's another recommendation from yours truly: Grab any Penetrators you can; you won't be disappointed. It delivers on all counts, except that the cover art is a little deceiving. In other words, there was no naked blonde in a flannel shirt, dammit.
Next week: Happy Halloween! –Bruce Grossman
Buy it at Amazon.
Discuss it in our forums.
MISS EARLIER INSTALLMENTS OF 'BULLETS, BROADS, BLACKMAIL & BOMBS'? REGASM THESE:
• #26: On the Lone Prairie
• #25: Lee Marvin's Bookshelf
• #24: Good Evening
• #23: Alphabet Soup
• #22: For Queen and Country