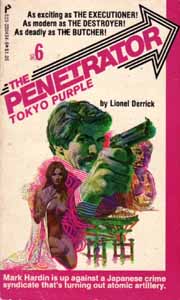 I was planning on making this column all about books with colors in their titles. As luck would have it, the colors I went with match those of bruises, which is fitting, since the books are packed with slam-bang action, including the return of two series I've been meaning to revisit. The next time I do a color-coordinated column, I promise it will be a brighter bunch.
THE PENETRATOR #6: TOKYO PURPLE by Lionel Derrick – Our favorite half-breed aggressor is back, but sadly, this 1974 book is so uninteresting for such a good series. You easily could have put in any other series character and it would have fit perfectly; that's how bland the story was.
After five missions so far, Mark Hadin decides he needs to take a vacation. So why not to the land of the rising sun? On his flight, he hits it off with a stewardess; there is your love interest for the book.
Once Mark lands, it seems that people are out to get him for some reason. See, a circular of Mark's face from a previous mission is floating around with words to the effect of "kill him."
But that is only the subplot to this tale, in which Melissa Broadhurst, a very young and attractive atomic scientist,has been kidnapped by an evil gang called The Purple Sendai. Mark on the chase to find the Sendai base, coming across their agents throughout.
It's all very by-the-numbers, even for its type, with no real surprises to hold a reader's interest. This is sad, since this series has some other installments which are great. I can't really complain, since it's still miles better than other garbage out there; hopefully the other Penetrator books on my shelf waiting to be read don't fall into the latter category.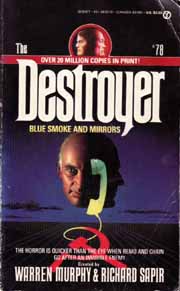 THE DESTROYER #78: BLUE SMOKE AND MIRRORS by Will Murray – After a long hiatus from this column, Warren Murphy and Richard Sapir's Remo Williams is back with a vengeance! This time out, Remo is up against a Doc Savage-like villain. Maybe that has to do with who really wrote this 1989 book: Will Murray, the keeper of the Doc Savage flame. I need to point out I met Murray a while ago at a pulp festival, and it was totally thrilling to hear him talk about the pulps.
Anyway, in BLUE SMOKE, something is breaking onto Air Force bases and making away with all sorts of technology and personal belongings. But the catch is, no one has seen it or even heard it. What could it be? It seems the Russians have developed a plastic-like suit that turns the wearer invisible to the point of just electrons floating around, even through the walls.
How are Remo and Chiun going to stop this, especially with a mouthy broad in their way who makes Dolly Parton look flat-chested? This novel is a total blast from beginning to end, with some great repartee between Remo and Chiun, especially Remo explaining the game of baseball – just priceless.
Sure, the enemy seems a little more pulp-like than others. Actually, this book differs from other Destroyer novels in how the bad guy is caught. I won't ruin it for anyone, but let's just say Remo and Chiun are not the ones responsible for it. But I think we can let that slip by.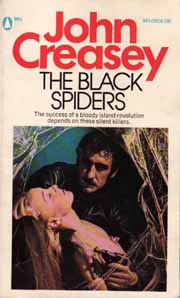 THE BLACK SPIDERS by John Creasey – This 1957 novel is part of the long-running Department Z books, of which I have several but have not yet read. This was my first, and I was pleasantly surprised by it, and yet, sometimes a little confused. It's top-notch espionage material, but sometimes the characters seem to meld into one another. But that can be forgiven; don't let it scare you away.
The basic plot deals with ex-reporter Nigel Murray, who is going about his day in the country when he is thrust into a world he knows little about. A girl named Juanita Lang has escaped her kidnappers and has no idea where she is or who to trust. We learn she's the niece of a very powerful leader of Canna, a small island country off the coast of Scotland.
On Canna, there is a group of revolutionaries trying to seize power using deadly black spiders – in the vein of black widows, I'm guessing, but slightly bigger. Nigel is called upon by the secretive Department Z to help out. Apparently, agents for the secret organization have a shorter life span than a fly, but Nigel figures it's his duty to help out, especially since he has fallen for Juanita.
The book is a taut little thrill ride, especially since I had no idea what to expect. Certainly, this won't be the last Creasey novel I read.
Next time: Pow! Bam! Oof! –Bruce Grossman
OTHER BOOKGASM REVIEWS OF THESE AUTHORS:
• THE DESTROYER #14: JUDGMENT DAY by Richard Sapir and Warren Murphy
• THE DESTROYER #22: BRAIN DRAIN by Richard Sapir and Warren Murphy
• THE DESTROYER #48: PROFIT MOTIVE by Richard Sapir and Warren Murphy
• THE DESTROYER #49: SKIN DEEP by Warren Murphy
• THE DESTROYER #104: ANGRY WHITE MAILMEN by Will Murray
• THE DESTROYER #145: DRAGON BONES by Tim Somheil
• GRANDMASTER by Warren Murphy
• THE PENETRATOR #9: DODGE CITY BOMBERS by Lionel Derrick
• TRACE: GETTING UP WITH FLEAS by Warren Murphy