Ah, the spy genre! Is there anything more fun to read?
As much as I love Ian Fleming's James Bond books, they won't be covered here today, for the simple reason that I've read them all before and wanted to get to other spy paperbacks that have been collecting dust. Oh, I'll probably re-read CASINO ROYALE once the movie comes out (just so I can say, "Hey, that wasn't in the book!"), but this week's column is filled with five different kinds of spies – three work for fictitious agencies, while the other two are grounded in reality.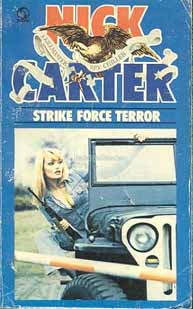 STRIKE FORCE TERROR – There is nothing like the palette-cleansing of a Nick Carter novel. They are easy and breezy and can be read in about three hours.
What happens when you are sent on a mission to save somebody and they don't want to go? This is the case for "killmaster" Nick Carter in 1972's STRIKE FORCE TERROR. He is sent to Turkey, where he meets up with a British female agent, and they have to serve as doubles for the chief of police and his secretary/mistress. It seems a British scientist has been set up for a crime he did not commit – the reason being, once he is taken to a remote prison near the Russian border, he will be kidnapped and taken to Siberia for work at a slave labor camp.
The funny thing about this Nick Carter story is that it's actually one of the more believable ones! Trust me, there are some real lulus out there, i.e. making men into sharks. STRIKE FORCE TERROR is mainly all build-up with Nick and his Brit counterpart, first disguising themselves as criminologists, before the Turkish Secret Police get wise. A pretty lame interrogation scene takes place, and once they arrive at the prison, Sir Albert the scientist does not want to go because the Russians will kill his family if he does not comply. So, of course, Sir Albert pulls a double-cross by getting Nick arrested and beaten, while Al is whisked away to the USSR. Once Nick escapes, he heads off to Russia to save the day. Like I've stated before, reading so many of these novels (this makes 12), you pretty much know by now Nick Carter saves the day, no matter what the odds, so don't tell me I spoiled anything.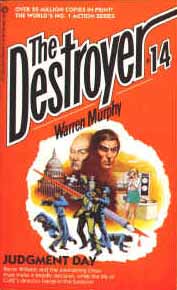 THE DESTROYER #14: JUDGMENT DAY – The cover of Richard Sapir and Warren Murphy's THE DESTROYER #14: JUDGMENT DAY proudly proclaims it is part of "America's best-selling action series." After reading this book, it's not hard to agree. This is an action-oriented spy series that needs some serious investigating. Maybe we should blame that bomb of a movie that was made with Fred Ward and Joel Grey.
For those who don't know, THE DESTROYER books are all about Remo Williams, a man who no longer exsists. Gee, where have I heard that before – cough, KNIGHT RIDER, cough. The basic plot to this 1974 adventure has a power-mad executive named Blake Corbish find out what C.U.R.E. – the super-secret agency Remo works for – actually is: an outfit with just two employees, Remo and his boss, Dr. Harold Smith. Corbish kidnaps Dr. Smith and tortures him for two days straight, to find out how to take control, with designs on becoming President of the United States. Once Corbish takes over the C.U.R.E. operations, he rides rough-shod over Remo, having him eliminate anything in his path.
I did not expect all the humor and excitement this book produced. It's just a great read and the problem now, of course, is that I'll have to dig around for more. This is one of the earlier novels still written by Sapir and Murphy, since ghost writers eventually took over, to the point where today no author is even listed on new installments. If there are any Remo experts out there, please leave a comment about which is the last of the real Sapir/Murphy pairings. Now, I also heard producer Robert Evans has the movie rights to the books, so let's just hope we get something along the lines of the BOURNE movies and not a rehash of REMO WILLIAMS: THE ADVENTURE BEGINS…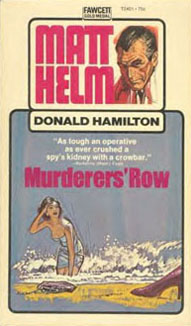 MURDERERS' ROW – First off, block all those memories of the Dean Martin movie of the same name. If you think the Bond movies took liberties, they pale in comparison to Hollywood's treatment of the Matt Helm books. MURDERERS' ROW, from 1962, is actually the fifth in the series, which are very continuity-driven. Here, Donald Hamilton's style is unlike the others in that Helm is potrayed as a brutal man who will finish a mission no matter the costs.
A little backstory first: In the first novel, DEATH OF A CITIZEN, we are introduced to Helm, who lives a very happy married life until one day, someone from his past shows up to bring him back into the spy game. Witnessing how brutal her husband was in his previous life (think A HISTORY OF VIOLENCE), Matt's wife leaves him at the end.
But this story deals with Matt – code name "Eric" – being assigned the task of beating up a fellow agent so she can continue on a mission. But all things go to hell right away. As he roughs her up, she suddenly dies, causing Matt to stumble his way into the mission himself, one of a missing scientist who needs to be brought back dead or alive. Matt uses the cover of a Chicago underworld type, which only causes more problems.
When push comes to shove, Matt Helm will kill someone without batting an eye. I still kick myself for not grabbing all the early Helm books when I had the chance. Helm is so anti-Bond, it's not even funny. If you do read these, just imagine Dean Martin actually pulling off some of the stuff mentioned and you'll see how not pretty it is. I don't think Dean Martin would have been filmed gutting a woman like a fish.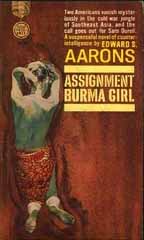 ASSIGNMENT BURMA GIRL – Of all the spy series out there – and there are plenty – this one does not get the respect it deserves. Edward S. Aarons may not be a household name, but he has written some top-notch stuff that is extremely easy to find in most used book shops. Unlike other spy series that have many books in the series, all the ASSIGNMENT books were written by Aarons himself. Probably the biggest selling point I can give is that he does something a lot of spy novelists don't do: character development. You actually feel like these people exist; they're not some one-dimenionsal types just to move the story along.
All of them star Sam Durell (aka The Cajun), who actually works for a real government agency: the CIA, to be exact. In 1961's ASSIGNMENT BURMA GIRL, he's called upon to track down a husband of a wealthy women with powerful connections. It seems he was in Burma trying to find the grave of his wife's brother. At least that's what the husband believes. He's captured by a fanatical leader called Major Mong and thrown into a tiger cage.
While in Burma, Durrell runs into a former colleague who now runs a quasi-legal airline service, and all the while, someone tries to stop any progress in Sam's search. Here comes a minor spoiler, but one you would have figured out really early on: Major Mong is really the brother that was thought to be dead. This is not the type of book where it's action piece after action piece. It's more in the vein of another great Patrick McGoohan show, SECRET AGENT MAN. For those who want an intelligent spy story, look to the ASSIGNMENTS, and think of Durell as a precursor to Tom Clancy's Jack Ryan.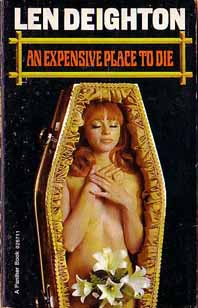 AN EXPENSIVE PLACE TO DIE – There is no one better at writing Cold War-era, anonymous-spy fiction than Len Deighton, plain and simple. AN EXPENSIVE PLACE TO DIE is not part of the Harry Palmer books that were made into the Michael Caine films. This is a completely different kind of British spy – one with no name – and his task is to gain the trust of Datt, a Frenchman with high influence and a shady business – that of running a house where all kinds of bizarre sexual perversions are filled.
This house previously was part of Trevanian's THE LOO SANCTION, but here, it's the major thrust (pun not intended). It turns out Datt is recording and filming the goings-on inside the house for his own benefit. The agent gains access by befriending a French artist who has an "in" with Datt. While there, the agent is drugged with LSD and is forced to tell all his secrets. Too bad none of them speak English, except for a women named Maria, who translates only what she wants them to know.
From there, the agent is playing a dangerous game of deceiving the French police while also protecting his own interests. He's put under major strain when one of the police informants who worked there is killed by one of the customers. I know this seems daunting and a bit confusing, but I found this 1967 Deighton thriller unlike any others, in that it deals more with the gray area of spying, that it can't always be black and white and sometimes the bad guys do get away with it. I highly recommend it if you can find it.
Next time, Modesty and her U.N.C.L.E. go to BERLIN. –Bruce Grossman
MISS EARLIER INSTALLMENTS OF 'BULLETS, BROADS, BLACKMAIL & BOMBS'? REGASM THESE:
• #5: Cheese 'n' Sleaze
• #4: A Rabbi, a Priest, a Pusher, a Queen
• #3: Smells Like Hi-Karate
• #2: My Name Is Erle
• #1: Debut
OTHER BOOKGASM REVIEWS OF THESE AUTHORS:
• GRANDMASTER by Warren Murphy
• NIGHT WALKER by Donald Hamilton