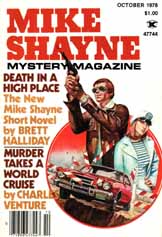 Most people are familiar with two long-running mystery digests: ALFRED HITCHOCK'S MYSTERY MAGAZINE and ELLERY QUEEN'S MYSTERY MAGAZINE, from which lots of stories have appeared in book form over time. But this column shines a light on a publication probably forgotten by a number of folks: MIKE SHAYNE MYSTERY MAGAZINE. I recently came into the possession of about 21 of these digests, all in fantastic shape and packed with some top-notch writing, so let's delve into some of these bite-sized treasures.
MIKE SHAYNE MYSTERY MAGAZINE: OCTOBER 1978 — For those unfamiliar with the Mike Shayne line, each issue featured a new Shayne story, usually written by a ghostwriter under the Brett Halliday name. But it also featured another novella-length story to be paired with, and a few other short stories thrown in. I'm choosing this issue first for its cool, LIFE ON MARS-looking cover, even though none of that happens in the story … well, except the girl-dressed-like-a-sailor bit.
The Shayne story "Death in a High Place" deals with a murder of a club worker and then the attempts on other workers. Shayne is hired to not only investigate, but become a bodyguard for the club singer. The story packs enough punch in its short length that it gives enough thrills for Shayne fans to get their fix, with a pleasant little mystery thrown into the mix, and a nice payoff of who is behind it all, and how Shayne figured it all out.
The other story to take the bulk of the book is "Murder Takes a World Cruise" by Charles Ventura — not Venture like it says on the cove, which kinda upsets me, since I was so ready to make nothing but VENTURE BROTHERS jokes throughout. I actually found the story a bit lacking and meandering as the plot moved along, to the point I was losing track of just who was who. It's not until the last few pages that it really starts to pay off, since it deals with a gang being systematically taken care of before the ship ends up in port.
Actually, it's some of the shorter pieces that come off the best in this collection, such as Patrick Scaffetti's "The Canine Vigil," which deals with a dog killer in a neighborhood and the cop assigned to find the killer. This story is bit of black humor with a nice payoff at the end, where the cop realizes he'd much rather just deal with parking tickets. Another animal tale is "A Hungry Nature" by Wyc Toole, about a man who wants someone to get rid of an alligator, but not before he gets rid of his wife. This story also plays a bit with black humor, which makes the ending just a bit funnier.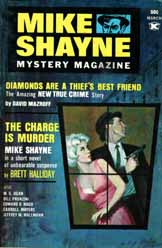 MIKE SHAYNE MYSTERY MAGAZINE: MARCH 1971 — The reason that this one was picked from the pile is because it has a story from one Bill Pronzini; I heard he is a pretty good writer. But before we get to his story. We have another Shayne mystery, "The Charge Is Murder," that packs in more action than a Michael Bay movie. It starts out with the investigation of a Cuban immigrant being found dead at a factory, and how it ties into a company being run by one family that is losing its shirt somehow. Once Shayne starts to get involved, the son of the company owner wants to hire him to look into some strange goings-on, leading Shayne to get involved more than expected.
I mean, as soon as Shayne meets up with the son, there are attempts made on both their lives, including an apartment that blows up, killing the father. It all leads into a shootout in a warehouse where someone tries to frame Shayne. Like I said, plenty of action to keep readers turning those pages. For such a short little story, it's crammed to the gills.
Following it up is a nice, lengthy true-crime piece about jewel thieves in "Diamonds Are a Thief's Best Friend." David Mazroff, who wrote the piece, is so detailed with some of the scams these thieves pulled off, you won't believe it's all true. Fitting enough, Pronzini's story deals with a pair of con men/jewel thieves in "Ice and Snow," which tells about a man who tries to steal a $60 watch, but again, this story is about con men. I don't want to ruin the surprise.
Another great short story is "Now You See Her" by Jeffrey M. Wallmann, which details the stakeout of two cops who are amazed that the man they are watching never leaves his apartment, but his wife has disappeared under their noses. It's a really clever idea that Wallmann uses; for its time, it's extremely original, since the technology was just coming into use.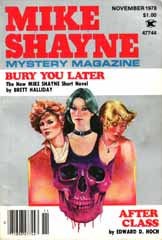 MIKE SHAYNE MYSTERY MAGAZINE: NOVEMBER 1978 — This issue is a treasure trove for James Reasoner fans, as it features three of his stories. According to the table of contents, only one is credited to him, but OLD TIMES' SAKE — a collection of Reasoner work he did for the magazine — shows that two others are also from his pen. These three are totally Reasoner, with enough black humor and twists that has permeated his work, starting with "Man in the Morgue," which deals with an obit writer who puts a few pieces together to uncover a plot that could be the basis for a Robin Cook thriller. Except Reasoner gets it finished with in no time whatsoever, instead of dragging it out for more than 300 pages.
It's not until the last two stories that we get another taste of Reasoner, under the names of M.R. James and R. Mason. The first of these is called "Graveyard Shift," which tells of a convenience-store worker who is a widower, just marking time at his job. The payoff explains why he has taken this type of job in the first place. The final story is "The Old College Try," about a group of thieves who steals furs from a warehouse with the help of a college-educated clerk whom the gang never let forget he has higher education, until he can't take the prodding no more.
But before all this, we have another Shayne story called "Bury You Later," a pretty bland tale, to be honest, that deals with him getting involved with a voodoo lady. Nothing to really grab the reader, but again, it was not the Shayne story I was really looking forward to in this collection. Another great short piece is William Miller's "Double Cross," which deals with a ship owner dragged into a drug-smuggling ring. The only problem is that the ending was so telegraphed to anyone who has read enough mysteries in their lives.
Next time: Black gold … Texas tea. —Bruce Grossman
OTHER BOOKGASM REVIEWS OF BRETT HALLIDAY:
• ARMED … DANGEROUS … by Brett Halliday
• BODIES ARE WHERE YOU FIND THEM by Brett Halliday
• COUNT BACKWARDS TO ZERO by Brett Halliday
• COUNTERFEIT WIFE by Brett Halliday
• FOURTH DOWN TO DEATH by Brett Halliday
• GUILTY AS HELL by Brett Halliday
• MERMAID ON THE ROCKS by Brett Halliday
• MIKE SHAYNE'S TORRID TWELVE by Brett Halliday
• NEVER KILL A CLIENT by Brett Halliday
• SHOOT THE WORKS by Brett Halliday
• TARGET: MIKE SHAYNE by Brett Halliday
• WHAT REALLY HAPPENED by Brett Halliday