Ready for a little change of pace, folks? How about three previously undiscussed authors covered this week? We're really running the gamut in this one, from a pulp icon to a real-life spy writer. So before the summer heat really takes a number on everyone, dig through a used store for these catch titles.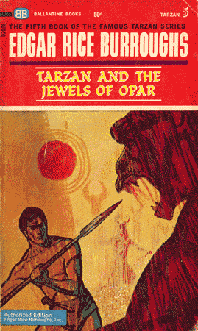 TARZAN AND THE JEWELS OF OPAR – First and foremost, take any idea of Tarzan you might have from the TV or movies and get rid of it, since it's just a sad sketch of the real character. If you've never read any of Edgar Rice Burroughs' original Tarzan stories, look for the first book; it might be considered a bit racist now, but let's remember when it was written.
But today we're talking 1916's TARZAN AND THE JEWELS OF OPAR, in which Tarzan gets amnesia and Jane is kidnapped. That's the entire plot, but it's so packed with action and detail, you can let that pass. But you also have an Arab sheik, a Belgian deserter, a lost city and, of course, the animals. The book just goes from one daring adventure to another in a style like no other, because Burroughs was the master at storytelling in the pulp style. There is a reason his books are still floating around: The guy could write. Many have tried and failed to capture his magic, but stick with his stuff. Now, there is some continuity to the series (of which this is the fifth entry), but it's not going to kill you to start at the first book and make your way through.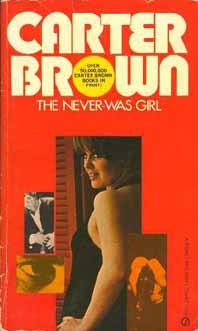 THE NEVER WAS GIRL – Nothing better for summer reading then a Carter Brown book. I don't think a single one of them tops 150 pages, so they all can be finished while lounging by the pool or beach. For some odd reason, they just never really took off here in the States, but in Europe they were huge.
This 1964 tale – THE NEVER WAS GIRL – deals with a trouble shooter called Rick Holman who works out in Hollywood. At a party one night, a British actor has a bit too much to drink and ran off with a girl to a beach house. He passes out and she winds up dead; the catch is that everyone at the party swears none of that happened, that he was there unti 4 a.m. before sent packing. Is it just a delusion or a mysterious cover-up?
From what I've read of them, Carter Brown novels are best described as mysteries on steroids, with none of the fat or filler. It's just a "here we go" kind of an attitude, where the clues pile up fast and it ends with one of those drawing room sequences. You know, where the hero will go through the whole case with every suspect in the room, until he makes the claim of who the real killer is. Next time you plan on spending some time in the sun, grab a Carter Brown; you won't be disappointed, and if you are, gee, it only takes like two hours to read.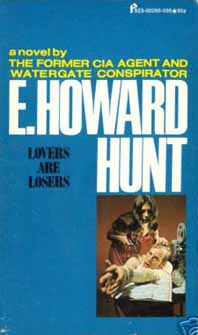 LOVERS ARE LOSERS – Does the name E. Howard Hunt ring any bells? Let's just say he did some "plumbing" at the Watergate Hotel. Yep, the fiction writing of a former CIA agent is what sold me on Hunt's LOVERS ARE LOSERS, from a pre-scandal 1953. Who knew it actually takes place in fantasyland?
A mining engineer by the name of Christopher Powell comes back to the states after doing a survey job in La Paz. He's a super tough guy since he made suitcases out of alligators he shot himself. (Oooh, so tough and manly – take that, G. Gordon Liddy!) Dickie Barden, a former school chum, wants Christopher to do a little snooping to protect his younger sister Diana, who is all of 18 years old and lorded over by their evil stepmother.
In some portions, this book seemed to have huge neon signs with the big words "Here it comes, folks." There are so many plot points that were dead giveaways, it was just embarrassing. I'm talking stuff you could have seen from the Space Shuttle, from corrupt charities, a blackmail ring, homemade porn, hidden pasts, false names and the most obvious of them all: lesbian lovers. With all the killing going on, you would think Hunt would write in some sort of police involvement, but no, Powell just wanders around like some type of ghost witnessing events unfold or even falling apart. I actually enjoyed it, but maybe other Hunt books will be better.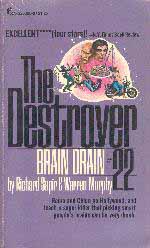 THE DESTROYER #22: BRAIN DRAIN – From original creators Richard Sapir and Warren Murphy comes 1976's THE DESTROYER #22: BRAIN DRAIN, the further adventures of C.U.R.E. agent Remo Williams and his master Chuin. The story begins with a grotesque murder scene: a roomful of hippies' heads cut open and their brains scooped out, while their limbs have been stuck to a wall to resemble a poster in the room.
While this modern art is being assembled, Remo is in a hotel room with some wannabe revolutionaries who think they are talking to a reporter about a huge government cover-up agency. It seems a worker at the Folcroft (C.U.R.E.'s base of operation) has stumbled upon info he should not have. Needless to say, Remo makes quick business of the lot. Later, Remo relaxes at Cape Cod, where they are visited by their boss Dr. Smith, but Chuin is too infatuated with his soap operas to be bothered.
As Smith makes his trip back home, a statue explodes, landing Smith in a hospital, where he is tortured and his room is cleverly booby trapped. Entering the picture is a previous enemy (see THE DESTROYER #18: FUNNY MONEY) by the name of Mr. Gordons, who is some kind of super-duper android that craves creativity – hence the missing minds – which takes him the most creative place in the world: Hollywood, where nothing but original ideas sprout! (Hey, did anyone catch that OMEN remake?)
Gordons hooks up with agent Wanda Reidel, who thinks her shot to the big time is having him do her bidding. They hatch a plan to have Remo and Chuin come to the coast by dangling a tasty carrot for Chuin. This book is a huge satire of the studio system and maybe the guys should have revisited it before signing that movie contract. A fun read that got finished in less time than I expected, BRAIN DRAIN made me want more Remo adventures. By the 1980s, the relationship between Sapir and Murphy became very strained, so Murphy would handle the bulk until he started enlisting ghost writers. There is a rundown of every ghost writer for the books found here.
Next week, this column finally gets a little EDGE to it! –Bruce Grossman
MISS EARLIER INSTALLMENTS OF 'BULLETS, BROADS, BLACKMAIL & BOMBS'? REGASM THESE:
#8: Spillane … 'Nuff Said!
#7: Still No Martini Drinkers Here
#6: No Martini Drinkers Here
#5: Cheese 'n' Sleaze
#4: A Rabbi, a Priest, a Pusher, a Queen
OTHER BOOKGASM REVIEWS OF THESE AUTHORS:
• THE DESTROYER #14: JUDGMENT DAY by Richard Sapir and Warren Murphy
• GRANDMASTER by Warren Murphy