It's coming to that time when all my reading takes place on the porch so I can enjoy the summer breeze. To mark that occasion, I've picked three books that deliver in the fun-in-the-sun variety, be it a story about ships, an old pulp hero or a thief who never, ever seems to get caught.
THE MONA INTERCEPT by Donald Hamilton — At more than 500 pages there is one word to describe this 1980 effort: sprawling. Giving John D. Macdonald a run for his money on the paperback original front, Hamilton came up with a multicharacter story that tells this adventure from a variety of perspectives … which is also its downfall, in my opinion, since it hits the point of overload.
For me, Hamilton always delivers in his very sharp and concise style, but that seems to have taken a break for this book. It follows a wide variety of characters all placed around the Florida Keys and the boating community, and its storyline deals with a Cuban exile named Jimmy Columbus, who becomes a terrorist of sorts.
The basic plot entails hijacking of ships, and people in the actual boating community who all seem to mesh into one another, but a few of whom are killed off early on. I mean, it felt like we were introduced to a few boat-bound couples, only to have one hijacked, another almost beaten to death and some other one that I could not keep track of, causing myself to lose sight of who was who at certain portions.
Then there is the whole thread of the government investigation of the drug trade. See what I mean by a few too many irons in the fire with this one? I'll give Hamilton tons of credit for trying to tie it all together, but some threads worked a lot better than others. The book could have been trimmed down and made into a great thriller, but instead we get a misstep. It's not the first Hamilton I'd recommend to anyone, anyway, but if you're looking for a massive undertaking and you're already familiar with the author, it will last as you sun yourself on the beach.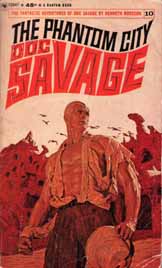 DOC SAVAGE #10: THE PHANTOM CITY by Kenneth Robeson – How can I do a column without one from one of pulp's greatest adventurers? It's DOC SAVAGE time again, and this 1933 one is loaded with an idea that would make all want to go out on a huge mission.
It deals with some Arabs who want to steal Doc's submarine, the Helldiver (you know all pulp heroes have one, right?). The reason for the attempt deals with them trying to capture this mute woman who can lead them to a mysterious lost city —hence the title. But this being a Doc Savage story, you know Doc will get the upper hand and find out all about their plot.
The story is loaded with action and violence, which was commonplace in Doc's early adventures. Once they arrive at the lost city and find the precious metal everyone is after, Doc deems it only right to help out the natives and explain everything to them, since the metal in question is none other than platinum. Throw in some weird white ape monsters and a bit of history for Monk.
For longtime readers, it's another fine addition to the plethora of SAVAGE titles to read, but newbies might want to look elsewhere to see what all the fuss is about.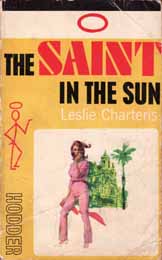 THE SAINT IN THE SUN by Leslie Charteris – I got off the wrong foot a few years ago with THE SAINT books, since the first one I read was a direct sequel to another. It left a really bad taste in my mouth, since I was completely lost. So I figured I'd give them another shot with this very fitting and fun collection of seven short stories from 1963 — also the last one to be written completely by Charteris.
The stories are not of the high-adventure type, but more of the globetrotting with that gentleman thief Simon Templar. For my tastes, THE SAINT stories play a lot better in the short form since they never drag and are breezy enough to go through them all in an afternoon.
In this collection, we have such things as a bit of competition for Simon in the jewel thief business. To go further ruins the surprise of the story "The Better Mousetrap." Then you have Simon hanging out with the Hollywood elite while in St. Tropez, in "The Ugly Impresario." A Ponzi scheme that is not a Ponzi scheme figures in "The Prodigal Miser," with "The Fast Women" dealing with a little sabotage in the world of auto racing.
All these stories move along so that they never tax the reader with confusing lots or red herrings, which is pretty fitting since some of them seem to have been published in THE SAINT MYSTERY MAGAZINE. These can proudly sit next to the Carter Brown books you all should be grabbing. Just be forewarned: The early stuff is mighty slow-going, so try to stick to the travelogue collections.
Next time: Couch potatoes unite! –Bruce Grossman
OTHER BOOKGASM REVIEWS OF DONALD HAMILTON:
• THE AMBUSHERS by Donald Hamilton
• THE BETRAYERS by Donald Hamilton
• THE DEVASTATORS by Donald Hamilton
• THE INTERLOPERS by Donald Hamilton
• THE INTIMIDATORS by Donald Hamilton
• IRON MEN AND SILVER STARS edited by Donald Hamilton
• LINE OF FIRE by Donald Hamilton
• THE MENACERS by Donald Hamilton
• MURDERERS' ROW by Donald Hamilton
• NIGHT WALKER by Donald Hamilton
• TEXAS FEVER by Donald Hamilton
• THE VANISHERS by Donald Hamilton
OTHER BOOKGASM REVIEWS OF KENNETH ROBESON:
• THE AVENGER #22: THE BLACK DEATH by Kenneth Robeson
• DOC SAVAGE: FORTRESS OF SOLITUDE / THE DEVIL GENGHIS by Kenneth Robeson
• DOC SAVAGE #19: PIRATE OF THE PACIFIC by Kenneth Robeson
• DOC SAVAGE: THE CZAR OF FEAR by Kenneth Robeson
• DOC SAVAGE: THE SPOOK LEGION by Kenneth Robeson