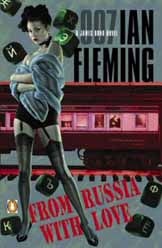 We hit a milestone today, as this column marks the 100th in my never-ending run through old paperbacks. To celebrate, we're covering three books from one certain author who also would be celebrating his 100th birthday. Regular BBB&B readers know I've taken many a potshot at Ian Fleming's creation of James Bond, but actually, I'm a big fan of the books and films. So let's don our tuxedos, get us some shaken-but-not-stirred martinis, and delve back into the world of 007.
FROM RUSSIA WITH LOVE by Ian Fleming – I've replaced all my beat-up Bond books with Penguin's recent reissues, and this 1957 novel – the fifth in the series – is my favorite of the whole run. Don't just take my word for it; it's considered one of the best by most fans of the series.
This is a different type of Bond story, since he does not make an appearance until after the first third. The plot details the operations of the Russian organization of SMERSH and its go-to killer Red Grant. SMERSH figures it needs not only to kill Bond, but to embarrass him in a huge scandal using lowly clerk Tatiania Romanova as bait, setting it all up in the lovely country of Istanbul.
Chapters of action after action follow of Bond just laying waste to all these Russkie agents who come after him. There's also the over-the-top fight scene of two women at a gypsy camp – oh, the good old sexist '50s! – but all of this is just a lead-in to the climax, when Bond finally meets up with Red Grant for the final showdown on the Orient Express, of all things.
Now if I ruined this book for anyone, where the hell have you been? The movie follows the plot of the book fairly well, which is rare. Everything you know from the film is pretty much there, including the deadly shoes of one Rosa Klebb. The novel still holds up, with Fleming not only giving us a top-notch story, but never settling for a travelogue approach like DIAMONDS ARE FOREVER.
There's a simple reason why Fleming's books have lasted this long in our consciousness: They are that good. If you've never read any, do yourself a favor and read them all in order. Plus, if this book was good enough for John F. Kennedy, it's good enough for me.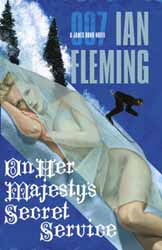 ON HER MAJESTY'S SECRET SERVICE by Ian Fleming – If you're not in the camp of FROM RUSSIA being your favorite Bond, most likely this 1963 one is your pick. The 11th book in the series more than makes up for what many consider the misstep of THE SPY WHO LOVED ME. That was a daring idea for its time, having a Bond story all told through the eyes of a girl at the center of it, with 007 only being a secondary character who shows up halfway through it. I liked it, but you can see how it must have pissed off Fleming's fans back in the day, so he had to come back with one that would straighten the ship in a big way.
This is the story of Bond's true heartbreak. Sure, he was double-crossed in CASINO ROYALE, but in this story, his heart is ripped out by his enemies. Again, the movie that was made from SERVICE is pretty on-target, which is truly amazing, considering how over-the-top the plot gets.
Bond is all set to quit the service at the start, but a chance meeting with a self-destructive woman changes him in a major way. Tracy is the daughter of one of the largest European crime families, whose father figures he can pay off Bond to marry her and straighten her out. But 007 doesn't take him up on it just yet.
He follows Tracy around, hoping to help her out of this destructive path, leading to him finding out that one of his biggest enemies is living in Switzerland: Ernst Starvo Blofeld, head of SPECTRE. Going undercover as an expert in genealogy and coats of arms, Bond gets a foothold into Blofeld's world, where our hero finds out the devious plot Blofeld has planned: unleashing biological warfare on England.
This is truly the high point in the whole Bond canon. It might get a bit outrageous, but Fleming counters it all with the introduction of Tracy, with Bond finding his one true love in a headstrong woman, only to lose her so soon after the wedding. Again, if I just ruined it for you, move out from under that rock. Hell, the movie version of FOR YOUR EYES ONLY opens with Bond at her gravestone.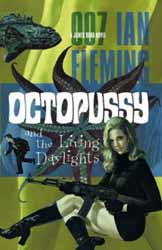 OCTOPUSSY AND THE LIVING DAYLIGHTS by Ian Fleming – From 1966, the final James Bond book by Fleming is comprised of four short stories that fit perfectly in between SERVICE and YOU ONLY LIVE TWICE. Only one of them has ever being filmed (although others have had their titles incorporated for the big screen).
First up is "Octopussy," which tells the story of Major Dexter Smythe, who steals a cache of Nazi gold during WWII. It's all told in flashback as Smythe is snorkeling, looking for his precious octopus he discovered. Bond shows up at the tail end to set things right.
The second story is "The Living Daylights," in which 007 is ordered to kill a Russian sniper. Except Bond can't do it when he discovers the target is a woman he admires. He hopes this will cause him to get fired. The third story is "The Property of a Lady," dealing with a Russian double agent being paid through an auction, with the object of desire being that of a Fabergé egg. Yes, this was all used in the movie titled OCTOPUSSY.
Closing out the collection is pretty much a throwaway story, plain and simple. "007 in New York" deals more with his eating habits than any kind of villain taking over the world. The reason for his trip is to warn a fellow agent that her boyfriend is playing for the bad guys. This collection and FOR YOUR EYES ONLY are being reprinted in England as one volume, just in time for the next Bond film, since "Quantum of Solace" is a story in that collection (and FYI, the story has nothing to do with the plot of the movie, either).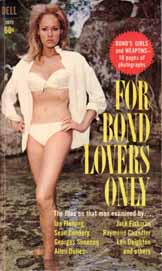 FOR BOND LOVERS ONLY edited by Sheldon Lane – This 1965 collection of essays is exactly what it states on the cover. This is not some critical analysis of the series, but more in the vein of some big-name fans professing their love for Fleming and his character.
The first essay is "007 and Me," which will totally thrill fans, since it's Fleming explaining to the writer the history of coming up with Bond and the decisions he made throughout the series. Chief among them: Why did he kill off Bond's bride so quickly? Simple reason: Fleming didn't want to be saddled with writing for her again.
Three pieces about Sean Connery are spread out over the course of the book. "The Blood, Guts and Girls' Man" deals with how Connery and his wife dealt with all the sudden attention of his newfound stardom and sex appeal. The aptly tilted "Bond's Broads" tells of all the actresses' experiences with their leading man. (THUNDERBALL had just finished shooting at this point. It's also made clear Connery was actually signed to do ON HER MAJESTY'S SECRET SERVICE originally.) The final Connery essay is a puff piece on his rise to stardom: "The Man Who's Got 007's Number."
A luncheon date between Fleming and author Len Deighton is included, in which Fleming admits to liking Deighton's spy a little more. This all takes place around the same time Fleming has just finished writing YOU ONLY LIVE TWICE, which would become the last book of his he would live to see published. There is an essay which held none of my attention, all about some of the real-life weaponry used in the novels.
"The Thriller Buisness" is another meeting of the minds, in which Fleming and fellow writer Georges Simenon discuss their techniques and how neither of their wives ever have anything to say after reading their finished manuscripts. They also both go into detail about some of the traps they fall into while writing.
"Talking About Spies" and "The Spy Boss Who Loves Bond" showcase two former spy masters discussing their love for the series, with the then-CIA chief being given a copy of FROM RUSSIA WITH LOVE by Jacqueline Kennedy, who said her husband thought he might like it. Then there is the Raymond Chandler piece "Iced Water and Cool Customers," where we learn that Chandler thought of Bond as too tough of a hero, yet that CASINO ROYALE was his favorite book. He reveals he was jealous of how Fleming could absorb information and details so well, but when push came to shove, his favorite writer was himself.
This is a fun little collection of pieces, but nothing to spend a ton of money on. Well, maybe for all the lovely cheesecake photos of all the pretty ladies that were in the movies to the point, including the girl from the GOLDFINGER credits.
Next time: I'm scared! –Bruce Grossman
OTHER BOOKGASM REVIEWS OF LEN DEIGHTON:
• THE BILLION DOLLAR BRAIN by Len Deighton
• AN EXPENSIVE PLACE TO DIE by Len Deighton
• FUNERAL IN BERLIN by Len Deighton
• HORSE UNDER WATER by Len Deighton
• ONLY WHEN I LARF by Len Deighton
OTHER BOOKGASM REVIEWS OF IAN FLEMING:
• THE DIAMOND SMUGGLERS by Ian Fleming