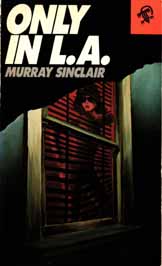 Long before we had Hard Case Crime and Stark House, the only real source for original and reprinted crime and noir was good ol' Black Lizard. The imprint allowed me to read my first Jim Thompson, David Goodis and, of course, Charles Willeford. I still have my old copy of COCKFIGHTER in my vast archives, and here are three original titles it put out back when it was the only game in town.
ONLY IN L.A. by Murray Sinclair — There is a back blurb on the back on this 1982 novel which should make everyone want to find this book: "I came up on Aikens and kicked his balls for a field goal, then shoved the short barrel in his mouth." Now that's some fantastic imagery.
It deals with boozing screenwriter Ben Crandel, who is thrust into a kidnapping plot. after someone grabs his adopted son, thinking it would be a quick score from some rich father. The kid was totally dressed like some little rich boy, but reality soon sets in for the kidnappers. Crandel can't wait for the cops to get motivated, so he goes on the hunt alone. Until recently, these kidnappers would steal dead bodies from morgues and then try and get ransoms from families, with Ben's kid being the first live one.
ONLY IN L.A. just flows with some truly amazing noir moments. Not only is Crandel some boozehound, but he'll sleep with anyone who'll give him the time of day. Throw in some great violence and the name-checking of three very prominent L.A. punk bands, and I was sold. The book is very much of the early '80s, with references to AMERICAN GIGOLO. Sinclair incorporates real people into this story under new identities, such as an old director named Alfie Wilde, who goes off the wagon and who wrote some movie called THE BOULEVARD. (I'm guessing this person was based on Billy Wilder.) It's such a fast little read, you wish Sinclair had a much larger output, but from what I've discovered, he only wrote one other book.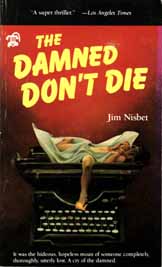 THE DAMNED DON'T DIE by Jim Nisbet — I'll start off this review real simple: Someone reissue this 1981 book now. This truly was a find like no other for me: raw, brutal and a bit kinky — okay, full-on kinky.
Martin Windrow is a private eye who is in the process of dropping off some divorce papers to one missing Herbert Trimble, when it's discovered his neighbor was not only killed, but cut like a piece of meat. It doesn't help Trimble out that he writes lurid stories for some low-rent magazine, with his current work-in-progress sitting in his typewriter with one sentence: "I've always wanted to skin a woman."
Yeah, this book definitely amps up the creepy meter and we have not even gotten that far. Windrow is drawn into a very bizarre world of transvestites and S&M parties, with a group of homosexuals hiring him to find out the truth since they figure the blame will fall on their kind for this killing. Nisbet paints a very graphic picture of this world of sadists with a photo album that would make Larry Flynt blush.
Oh, and if I already haven't sold you, I'll just add this little bon mon: Trimble dresses up like his wife and passes himself off as such, since he/she was the one who wanted to divorce himself/herself. I'm not ruining any surprises since that's revealed early on in the investigation. So hop to it, reissue publishers. This is truly a forgotten classic that should be rediscovered. Maybe Oprah would hawk it.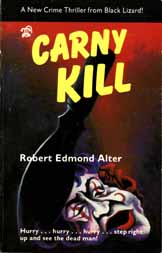 CARNY KILL by Robert Edmond Alter — In a carny's life, we're all just marks to them. In this 1966 tale of murder, Thax is a down-on-his-luck carny who just scored a job at a place called Neverland — a permanent carnival with ideas borrowed liberally from another theme park of note.
But as soon as he is hired, Thax past comes face to face with his ex-wife — who is now married to Neverland's owner — and a few others he would best like to forget. But in all of this mess, there is a shining light for Thax: a dancer named Billie, for whom Thax falls harder than concrete from an underpass. A day goes by before the shoe drops for Thax: the owner turning up dead, with all the clues pointing directly at his ex-wife. Thax makes it his mission to figure out who is responsible, ruffling the police's feathers the whole way.
In Thax, Alter created a character who's too smart for his setting; a well-read carny is a bit of oxymoron. I mean, when was the last time you heard someone quoting Kipling at a tilt-a-whirl? It also plays on the fact that Thax's favorite book is TREASURE ISLAND, which plays a major part in the storyline.
The mystery is well played out, keeping all the secrets hidden until the reveals, of which there are plenty. This could easily be reissued, since it seems so fresh, and never dates itself too bad. Plus, it admits what most people already know: All those games are fixed.
Next time: Getting a bit vocal. —Bruce Grossman