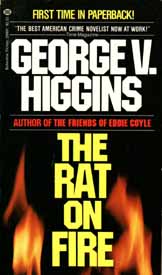 "If you can't trust me, who can you trust?" wrote Bill Crider in an e-mail to me, after telling him how I recently picked up a Harry Whittington book with an introduction by him in it. That was the genesis of this column idea, which snowballed when I saw Tom Piccirilli list his favorite crime novels. It was nice to see I've read a good amount of his choices and noticed I had one on my shelf waiting to be read. Then finally, I asked Ed Gorman for his three favorite Travis McGee novels. If you can trust these gentlemen for reading material, who can you trust … Oprah?
THE RAT ON FIRE by George V. Higgins — One of Piccirilli's favorite modern crime novels is this one from 1981. I'm guessing somewhere in the playhouse of one Mr. Tarantino must be a stack of Higgins books, from which he learned how to write dialogue, because this is about as authentic as you can get. Even fans of THE WIRE will be amazed how closely Higgins hits the nail on the head with the accurate delivery of speech.
Jerry Fein is a slumlord with tenants who only complain, yet don't pay rent. Leo Proctor is a handyman who also happens to be a bit of a firebug. Jerry figures that maybe a fire from Leo could solve his problem in a simple way. But Leo is too smart to just set a blaze that will point directly back at him. Nah, he has a much better idea: catching rats and using them.
As the title suggests, he will set them on fire and let them loose in the walls, so it will look like an electrical fire. If the book was just these two lowlifes, you would not feel slighted at all, but Higgins peppers it with other characters, including two cops who couldn't care less and a fire marshal who will look the wrong way. It really is the ear for dialogue that engages the reader from the start. Be forewarned: It's extremely un-PC, so sensitive types might want to look elsewhere. But I'm guessing if you watch THE WIRE, you'll have no problem at all.
THE DEEP BLUE GOOD-BY by John D. MacDonald — Second up is Gorman's pick. I asked Ed to list his three favorite McGee novels, and the other two were DREADFUL LEMON SKY and LONELY SILVER RAIN. I own both of those, but in hardcover with lackluster covers, so of course, I went with the painted cover and the first in the series.
This 1964 book lays the groundwork for the whole series early on, explaining exactly how McGee works and his payment scheme, in that he usually takes half of the recovered item he is looking for, and only takes cases if he is running low on funds. It became apparent that McGee influenced a certain other detective series — THE ROCKFORD FILES — with its light tone and humor. All that is missing is James Garner living on a houseboat.
This story deals with Cathy Kerr contacting McGee because her dad might have hidden some cache of money before he was sent to prison. Now that he is dead, a man named Junior Allen turns up to make a little trouble. While behind bars, Cathy's dad told Junior where he had hidden some treasure. Now her father's property that was left to her has been dug up and Junior has skipped town.
What Junior recovers delves back to World War II, as Cathy's dad was a bit of a smuggler who left the war with a lot more than just memories. McGee investigates this case in a breezy fashion that permeates the entire series, even though it gets a lot darker before everything is cleared up. Junior might seem like some easygoing guy, but he turns into a true psychopath who will stop at nothing from keeping what he believes belongs to him.
This is not only some fun in the sun, but some truly great writing from one of the most prolific authors of our time. It's easy to see how these novels stay in print and still sell. The only negative to the new editions are those truly horrendous covers.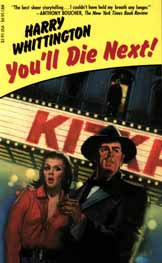 YOU'LL DIE NEXT by Harry Whittington — Finishing up this column is the 1954 novel that put this idea in my head in the first place. Henry Wilson is a normal married man who works for the VA hospital. But this being a crime novel with Whittington running the controls, you know Henry's world is about to be turned upside-down.
First, Henry receives a bizarre letter telling him he can change his name and his wife's name, but the writer will still know who he really is no matter how hard he tries to hide. Henry just throws it off as some crackpot, but the letter has his name on it and everything is directed toward him. When he turns up for work, Henry is fired for lying on his application. Supposedly, he served time at San Quentin, which is pretty hard for Henry to believe, since he's so straight-laced and has never even visited California.
Who's doing this is the question that drives him for the rest of the story, and Whittington never lets up in Henry's persecution. He becomes public enemy No. 1 after his wife is rushed to the hospital after a horrific beating, with all fingers pointing at Henry. All he can do is track down the madman setting him up to take this massive fall.
When it comes to Whittington, Crider sure can pick them. We might have read this plot before, but the way Henry is made out to be a mouse with nothing but traps standing before him moves the story along so well. Whittington should be listed along with the other greats of the genre, as Crider points out in his introduction.
Next time: You better watch out or the insects will get you! —Bruce Grossman
OTHER BOOKGASM REVIEWS OF GEORGE V. HIGGINS:
• COGAN'S TRADE by George V. Higgins
OTHER BOOKGASM REVIEWS OF JOHN D. MACDONALD:
• THE GIRL, THE GOLD WATCH & EVERYTHING by John D. MacDonald
• A PURPLE PLACE FOR DYING by John D. MacDonald
• SOFT TOUCH by John D. MacDonald
• A TAN AND SANDY SILENCE by John D. MacDonald
• WHERE IS JANICE GANTRY? by John D. MacDonald
OTHER BOOKGASM REVIEWS OF HARRY WHITTINGTON:
• THE MAN FROM U.N.C.L.E. #2: THE DOOMSDAY AFFAIR by Harry Whittington