With Mickey Spillane's passing yesterday, it's a sad day here in the world of BULLETS, BROADS, BLACKMAIL & BOMBS. I usually write my column one or two weeks ahead of time to give myself some breathing room, so it's entirely accidental but really fitting that this column appears today. Spillane was one of my favorite writers, bar none. Hell, he set the bar that some still can't reach. It's not a shock that he died, but like a punch in the gut followed by a kick in the head, just like in one of his books.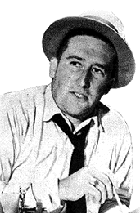 I got turned onto Spillane in my college years when a friend of mine gave me a copy of ONE LONELY NIGHT, and I was hooked. Now the only problem with Spillane is trying to find his book in print. There are two collections of the first six Mike Hammer books, and that's about it. But if you learn one thing from my column, search used bookstores and grab any you can find. So let's all raise a glass of Miller Lite in honor of one of the greats. Now that he's gone, he'll probably get all the recognition he deserves. In other words, with any hope, here come the reissues. Now onto the column…
With this week's column discussing Mickey Spillane's last two Mike Hammer books and one of Sax Rohmer's ultra politically incorrect Fu Manchu stories, I could not pass up the "Hammer and Tongs" title. I'm going into these final Hammer books kinda leery since there is a huge gap between the last time he wrote about his favorite private eye. And originally I was going to cover two Rohmers to match, but three new DVDs took precedent: WE JAM ECONO: THE STORY OF THE MINUTEMEN, Russ Meyer's BEYOND THE VALLEY OF THE DOLLS and DOCTOR WHO: GENESIS OF THE DALEKS. Can you really blame me?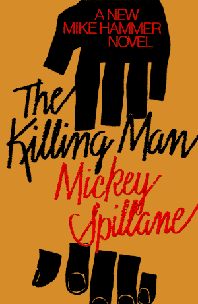 THE KILLING MAN by Mickey Spillane – Well, I guess Mike Hammer doesn't age like the rest of us. Stick with me for a moment: since in I, THE JURY was written back in the late 1940s, I assumed Hammer was about mid- to late-30s. Now this book is actually set in 1989 (the year it was written), with Hammer still going strong and still in that age range. I mean, if Spillane had stuck with age, I don't think we would see a 70-year-old detective getting pushed around. So there is my little pissing and moaning about this book and that's all I can really complain about.
I was kind of scared that maybe Spillane had slipped a bit, but nope, even if some of the plot points are a little overboard, with a red herring of an assassination plot against a very high-up political figure. The book opens with Hammer finding his secretary Velda beaten to a pulp, and a man taped to his chair with all his fingers cut off and a huge nail sticking in his head. From here on the book just cruises in typical Spillane style, with rouge agents, a super-secret assassin, a cache of hidden coke, Mike getting beat up, a smokin' hot D.A. that gets nude for Mike, and of course, the real reason it got started: revenge. There is just so much to love in this book.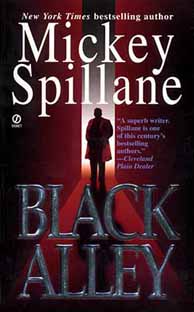 BLACK ALLEY by Mickey Spillane – Printed in 1996, this was the last Mike Hammer novel and like its predecessors, does not let up. It opens with Hammer recovering from a gangland shootout in which he was left for dead, but saved a by a drunk who was once a doctor. Just throw logic out the window, folks, and enjoy the read.
While he's in recovery, a former army pal of his is shot and wants to see Hammer before he dies. He tells Mike of $89 billion that was stolen from the mob and hidden away, setting up the story for what it really is: Mike Hammer vs. the mob. We get to find out about the in-fighting within the ranks of the mob, a set of weird numbers like on that TV show, and naturally, the never-ending sexual tension between Mike and Velda.
Here is a little problem for me: In one of the previous novels, Mike slept with Velda a few times. But in this one, that supposedly never happened. No matter; BLACK ALLEY is pretty straightforward compared to other Hammer novels. No real huge surprises that will make you go "wow," but still better then half the crap out there purporting to be noir. It's a nice way to put this character to rest.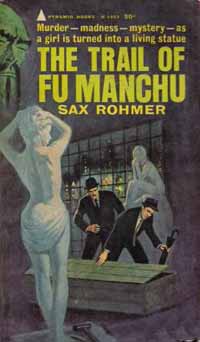 THE TRAIL OF FU MANCHU by Sax Rohmer – Nothing like some good-ol'-fashioned racism from back in the day, referring to the Chinese as either "yellow" or even "chinks." That pretty much sums up Rohmer's opinion of Asians. I'm not some PC flag-wearer; I'm very much the opposite. But, wow, the Fu Manchu series really goes above and beyond, even for 1934.
This seventh entry in the long series deals with the intrepid, evil Dr. Fu Manchu on the run in England and cut off from his precious Si-Fan group of minions, with Nayland Smith (the hero, for lack of a better word) is hot on the trail. Or he would be if something actually happened in these books. While reading TRAIL, I remembered why I did not stick with the series: nothing ever happens! The few "action" pieces go by so quick. Fu Manchu is really only in the book for a total of 20 pages. The basic plot is that a doctor's daughter has been under Fu Manchu's spell, and that's really it, folks. Nayland is led around to where Fu Manchu might be hiding and is captured along with others and made to watch the evil that is Fu Manchu. Decapitating a traitor is the big set piece.
I know these were written back in the 1930s and were probably considered nail-biters, but guess what? I've read Jules Verne's MYSTERIOUS ISLAND and that really was a page turner. I'm not slamming Fu Manchu, but it's really something to think about before picking any up.
Next week, savage evil lurks in this column. –Bruce Grossman
Buy it at Amazon.
Discuss it in our forums.
MISS EARLIER INSTALLMENTS OF 'BULLETS, BROADS, BLACKMAIL & BOMBS'? REGASM THESE:
• #12: To Helm and Back
• #11: Don't Judge a Book by Its Cover
• #10: Spaghetti Westerns, Pulp-Style
• #9: Me Tarzan, You Remo
• #8: Spillane … 'Nuff Said!
OTHER BOOKGASM REVIEWS OF THESE AUTHORS:
• THE DELTA FACTOR by Mickey Spillane
• THE LAST COP OUT by Mickey Spillane
• THE LONG WAIT by Mickey Spillane