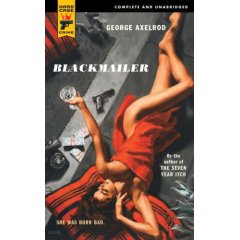 Leave it to George Axelrod to make the world of book publishing seem dangerous. In BLACKMAILER – his 1952 novel now given life anew by Hard Case Crime – Dick Sherman is a midlevel publisher whose biggest sellers are puzzle books. However, this could change when a hot little number named Jean Dahl struts into his office and offers to sell him the rights to an even hotter manuscript.
The work in question is a novel by the late Charles Anstruther, a booze-swilling, hunting fanatic writer who died of a self-inflicted gunshot wound (Ernest Hemingway, anyone?). No one knew he was working on anything, so it's like instant money – a manuscript for which some are willing to kill.
Just ask Ms. Dahl. After being strip-searched and cavity-searched by two thugs who tear Sherman's apartment to shreds, she doesn't live much longer, expiring at a swingin' shindig in a bachelor pad full of secret panels. Sherman drowns his sorrows in drink, as well as the body of a former lover who reappears in his life: a sexpot Hollywood actress named Janis Whitney.
It's too bad this is called BLACKMAILER, because that aspect doesn't really surface until the final quarter. Coincidentally, that's the point where all the goodwill this simple-pleasured crime tale builds up starts to deteriorate – the victim of several endings too many and overexplanation that solves the mystery by telling, rather than showing.
Axelrod's main problem is that his plot climaxes too early, much like I would with his female characters, given his loving descriptions of their "full, firm breasts." (Speaking of, this is the kind of novel that specializes in love-it-or-hate-it lines like "I couldn't decide whether to slap her or kiss her. I kissed her." I happen to love it.)
So if BLACKMAILER ends up as a decent but only mildly involving murder mystery, at least its insider details on the machinations of Tinseltown ring true, as Axelrod penned such film classics as THE MANCHURIAN CANDIDATE, BREAKFAST AT TIFFANY'S and THE SEVEN YEAR ITCH. Perhaps the big screen would have been the proper medium for BLACKMAILER, but hey, at least it doesn't bore. –Rod Lott