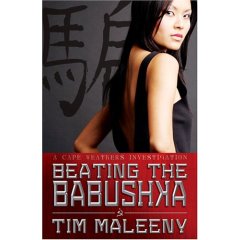 Picking up after the events of STEALING THE DRAGON, Tim Maleeny's BEATING THE BABUSHKA places us back in Cape Weather's world, yet there is very little carryover from the previous book. Therefore, if you haven't read his first book, you won't feel as though you are missing anything, and what little carryover there is deals with Cape's partner-in-crime, Sally the lesbian ninja.
Now onto the plot of this blast of a read: It starts out with two seeming unconnected storylines, including the discovery of a local deli owner who's been killed. His joint was the drop-off point for the local heroin trade between the Triads and the mob, so the cops figure it might be a turf war or the start of a full-scale gang war.
Back in Cape's part of the world, he is visited by Grace, a film producer who is suspicious of her fellow producer's death – a suicide, by the looks of it, having jumped off the Golden Gate Bridge. But Grace thinks it's all wrong and wants Cape to look into it.
Maleeny takes a few very thinly veiled potshots at a certain movie company run by two brothers based in New York, where one brother wants to make movies that make money, while the other is more into the arthouse crowd. The movie that Grace is working on is a sequel to a giant asteroid movie where San Francisco will be wiped from the map. (Here's a hint: the one with a really awful Aerosmith song.)
Cape takes his time at the start of the case, hoping the cops will turn something up, but their hands become a bit too filled with a few more bodies popping up in weird places. As Cape starts to look into the case, he is visited by two Russian gentlemen who want him to drop the matter or else. As you can probably guess, they are Russian mobsters and don't like to hear the word "no."
This is only the tip of the iceberg to another knockout performance from Maleeny, who knows who his audience is and plays to them so well: people who enjoy books that are fun, not some ponderous meandering that other authors bog themselves down with, full of characters so flawed, you wish they would shoot themselves.
Maleeny ups the ante with the violence and frivolity. Sure, I wish there were more sequences of Sally doing her thing, but what is there is top-notch and will delight the readers. He's given us a one-two combo of great reading with his debut novel and now, its sequel, which will only gain him more fans.
Let's hope that Cape has many more adventures in him since he feels like the second coming of Travis McGee – just with a kick-ass ninja as a partner. –Bruce Grossman
OTHER BOOKGASM REVIEWS OF THIS AUTHOR:
• STEALING THE DRAGON by Tim Maleeny