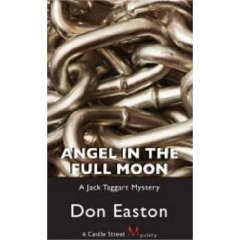 Jack Taggart is back in his no-compromise style of police work in Don Easton's ANGEL IN THE FULL MOON. For those unfamilar with the Jack Taggart series, I highly endorse the two previous entries; it's actually best that you read them before tackling this novel. That has nothing to do with carryover, but more to get a feel for the type of person Taggart is, especially for the dark secret he has hidden until now.
The story opens with a young Vietnamese girl named Hang who is told she is going to live in America with a wealthy family. They way she is sent to North America will make readers quite aware of what really awaits her: that she is just the newest victim in the white slavery ring where she'll end up working in massage parlors … or worse.
We finally catch up with Taggart as he has a meeting with one of his top informants, Damien, the president of Satan's Wrath. Damien explains to Taggart that he needs to keep his eyes on two Russians who are trying to import things into Canada without anyone knowing. Damien does not go into great detail, other than that he wants absolutely nothing to do with it. It's just enough of a push to set Taggart on another no-holds-barred investigation, all while his newest boss is trying to get him transferred out of the department.
In their investigation, Taggart and partner Laura travel to Cuba and Vietnam, where they find the Russians aren't involved in the massive drug distribution they thought. Meanwhile, Hang is handed over to a true creep named Pops, who has himself a private little dungeon in a sub-basement that becomes Hang's new home as she is shackled on the leg while abused sexually and mentally. This is not for the squeamish, but Easton doesn't go into gory details, yet also doesn't leave it to the reader's imagination. Hang knows her sister is due on the next boat to arrive, only to end up in the hands of Pop.
Now to say that Taggart and Easton are one and the same is not that hard to believe since it comes across quite clearly that the author is writing from experience. This novel will definitely thrill anyone who dares to enter this dark world. Just be forewarned that it's always darkest before Taggart finishes his vendetta. In ANGEL IN THE FULL MOON, Easton has delivered his third and most personal story yet, and one that hopefully will give him greater exposure to the masses, since it blows away all expectations that his first two books promised. —Rod Lott
OTHER BOOKGASM REVIEWS OF THIS AUTHOR:
• ABOVE GROUND by Don Easton
• LOOSE ENDS by Don Easton