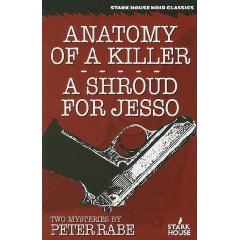 Collected within Stark House Press' ANATOMY OF A KILLER / A SHROUD FOR JESSO are two more great finds by Peter Rabe. From 1960, ANATOMY deals with Sam Jordan, a hired killer who shows no emotion at all — sort of like a clockwork machine given a task and told to finish it. He tries to be more than a blank slate by trying to start a serious relationship with a prostitute, only to be rebuffed countless times, or when he gives his boss a present of an engraved lighter.
Jordan is ripped for suppling evidence that connect the two men. He's a total professional when it comes to his work ethic, which is changed only for his newest rush job, from a man who has no information except the victim's name and location. This forces Jordan to do his own research, which throws him off considerably.
His target is Kemp, a former big-time operator who's moving down to Florida to restart with a new crew. Meanwhile, Jordan becomes infatuated with a local waitress in town, who treats him like a normal person. But things just don't go right for him, and from here on out, Rabe puts him through the wringer.
As Jordan finally seems to break away from his machine-like shell, it's much to late. The book reminded me of the film COLDBLOODED, which also dealt with a hitman who goes about his life like a robot, only to be changed by a woman, but that's where the similarities end. This novel is another fine selection from the never-ending list of great releases from Stark House.
The second half of the collection — 1955's A SHROUD FOR JESSO — is a globetrotting affair with a noir twist. Jack Jesso is a pain in the syndicate's ass, so his boss Gluck sets him up on what seems like a simple job of finding a missing man named Snell. Too bad the person he finds is total mess in the mental capacity, and it was all a setup to get rid of Jesso by shipping him off to Europe to be killed.
Kastor, the man who wanted to find Snell, was in on the double-cross the whole time. Jesso acts like he is still in control throughout the story, even though he only has a bit of an upper hand, thanks to Snell, who passed along some key information that would set everyone up. Even after the countless attempts on his life, Jesso still plays it off like he is the big shot everyone should respect.
It gets to the point that after Jesso is double-crossed again by Kastor for a little amount of money, he tracks down Kastor, setting the rest of the story into full force. Jesso becomes quite smitten with a woman who also happens to be Kastor's sister. Rabe works his magic, weaving a very strong character in Jesso. You can picture this tough guy who won't take no for answer, and God forbid you cross him. Of course, this novel does not end happily — it's noir, folks. Tthis is Stark House Press, not Harlequin.
Stark House never disappoints, but those who have its other Rabe collection might get a sense of déjà vu with the extras, which reprint the two earlier essays by George Tuttle and Donald E. Westlake; both are worth rereading. —Bruce Grossman
OTHER BOOKGASM REVIEWS OF THIS AUTHOR:
• MY LOVELY EXECUTIONER / AGREEMENT TO KILL by Peter Rabe