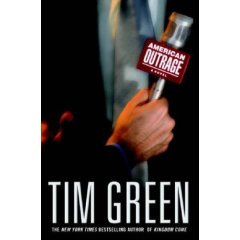 Tim Green is a more-than-adequate professional talent, a decent pro football player, a very good sports commentator, a rock-solid correspondent for NPR and tabloid shows like A CURRENT AFFAIR, a best-selling thriller writer with titles under his belt like KINGDOM COME, and with all that, one must look on in awe at his accomplishments.
But there's disappointment, too. Because you know he can do better. As with his latest novel, AMERICAN OUTRAGE, his writing seems so smooth and natural, that it frustrates the reviewer because he is this close from taking his writing from competent thriller to le Carré levels of brilliance. He hasn't got there yet, but I believe he will do so soon.
This isn't as good a book as KINGDOM COME; perhaps it's the intensely personal subject matter. The book features Jake Carlson, an ex-NPR reporter now turned tabloid stooge for a show called AMERICAN OUTRAGE, hence the title. Jake has an adopted son named Sam. The setup is very similar to the real-life story of Tim Green. That's the inspiration; I certainly hope Green didn't have to deal in real life with all the complications he makes his main character go through.
You see, Sam wants to know who his biological mother was, and Carlson's investigative reporting skills will come in handy, so he agrees to help. But his searches reveal a lot more than father or adopted son bargained for, including powerful political families, treacherous coworkers and murderous Albanian mafia. It's a heady mix, and Green generally handles it well.
But his smooth stylings can only go so far with pulp-level plotting. There's just a little too much bizarre behavior and grotesque scenes of unreality, as Jake and Sam get more and more involved with baby farms and political scandal. Sam is remarkably stubborn and foolhardy, and Jake is often no better at sensing the needs and motivations of other characters, something you would think a world-class reporter would understand.
The traditional fantasy of an adopted child having long-lost parents who can change the world has become tiresome. But still, the author manages to make you care about both Jake and Sam, and he drags you along from one cliffhanger to the next, rooting for the successful end to their search.
Tim Green is still a writer to watch out for, but this isn't his best effort. Worth a read? Yes. Worth it to keep the guy on your watch list? Absolutely. –Mark Rose
OTHER BOOKGASM REVIEWS OF THIS AUTHOR:
• KINGDOM COME by Tim Green