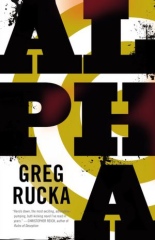 A new series from Greg Rucka means one thing: Jump on it now. Don't wait for the fifth or sixth book to roll around, because then you'll be lost. ALPHA introduces us to Jad Bell, a new Delta Force operative whose latest assignment will hit very close to home: running security for a theme park called WilsonVille.
Bell has been assigned this task because the previous agent working undercover came a little too close to something shady going on, winding up dead. It seems there have been some rumblings that WilsonVille has been targeted for a terrorist operation.
The who and why is unknown, and when the readers see that it's a sleeper agent making time until the day he is needed will chill some. To add to Bell's problems is that his daughter and ex-wife are coming to the theme park with her school, where the students are all deaf.
Rucka seems to enjoy piling onto his main character's problems, making it no easy task for Bell. The bad guys have a bigger agenda and money behind them — they're actually not some militant group, but paid professionals. It all builds to the climax which, of course, leads right into the eventual follow-up.
Bell is the type of character who seems to be at the right time whenever needed. That's nothing groundbreaking for this type of novel, as most readers know going in what to expect. A bit of commando jargon and code names might muddle some readers' appreciation of the story — some of Bell's backstory is hurt by this — but on the whole, it's a solid action tale.
Bell is a likable lead, while the enemy leader is definitely the type of villain who just oozes evil, which makes ALPHA all the more fun to read. For those who have never read Rucka before — whether his novels or comic work — get ready: This is a great representation of the man's style and talent. —Bruce Grossman