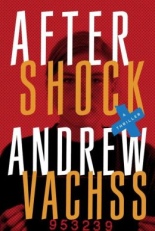 The fact that AFTERSHOCK, this latest thriller from Andrew Vachss, introduces a new character and series can't help but raise speculation. Will this new series be as hard-hitting and memorable as the author's Burke novels, for which he's best-known? After a few stand-alone titles, varying in both subject and technique, has Vachss finally found a format he is fully comfortable and confident with?
Sadly, this debut with its uneven blend of small-town intrigue and big-league investigation and legal proceedings leaves these and any other related questions unanswered.
Our narrator Dell met his wife, Dolly, when he was serving in the French Legionnaire and she was a volunteer nurse with the Doctors Without Borders charitable organization. By the time they married, Dell had resigned from both the Legion and his independent mercenary jobs, and Dolly left her nursing position. Now they both live relatively quiet lives in a small Oregon coastal town.
 
Then one afternoon, Marylou McCoy, a local teenage girl and star softball pitcher for the high school girls' team, brings a gun to school and shoots Cameron Taft, a popular local boy, in the hallway and in plain sight of several other students. The killing immediately sends shockwaves throughout the town. No one doubts that Marylou is responsible for the murder, but the perplexing question remains: Why did she do it?
Long a local friend and confidant to most of the high school girls, Dolly collects stories from Marylou's classmates while trying to make sense of the murder. Meanwhile, Dell becomes a private investigator for the lawyer hired to defend Marylou, and calls upon his former skills to find out more about her and the murdered boy.
 
Together, Dell and Dolly uncover a dark and shocking secret that has been hidden for years behind the town's peaceful exterior. This secret forms the basis of the defense brought forward in court.
 
Vachss' prose style here is reminiscent of the blunt, hard-boiled voice that carried most of the Burke books, and it feels both familiar and confident. Yet the opening passages are disorienting as Dell recalls his past and the varied circumstances that brought him to where he is today. This sense of dislocation lingers throughout the novel as Dell's memory frequently shifts back mostly to his Legionnaire days and the people and hard lessons learned about warfare, both overt and private.
 
If Dell and Dolly had settled in a more urban location, the undercover techniques and equipment Dell utilizes in his investigation would seem more fitting and fascinating. Here, however, they feel strikingly over-the-top and often downright surreal.
 
Then, in the final quarter of the novel, the action gives itself over to the court case itself. While the case's defense is unorthodox and the entire proceedings occasionally enhanced by Dell's cynical observations, it is basically the same defense-vs.-prosecution drama found in countless other legal thrillers.
 
Vachss is obviously looking for a way to combine his experiences as a lawyer and vocal advocate for youth and children's rights, along with his fascination with and considerable knowledge of warriors who work privately and in the shadows.
 
This new, first-person protagonist might be the perfect vehicle for this combination. But the author first needs to become more acquainted with his character and smooth over the several inconsistencies that make AFTERSHOCK more confusing than thrilling. —Alan Cranis