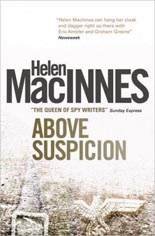 Titan Books is reprinting all of the excellent espionage fiction of Helen MacInnes. If you're not familiar with her works, this is a perfect time to start collecting the series and enjoy the talents of this seminal spy author who penned 22 books over four decades, moving her action contemporaneously from World War II throughout the Cold War.
Her first, ABOVE SUSPICION, made its appearance in 1941. In this, the spousal and amateur-spy team of Richard and Frances Myles are about to go on vacation when the British government politely asks the couple if they would participate in a wee bit of espionage along the way.
A series of contacts and message bearers throughout central Europe may have been infiltrated. With the situation extremely hot, the government deems it best that the Myles family attempt to make contact with these operatives and follow the chain back to determine if the main agent in place has been turned or not.
It's kind of a harebrained scheme (and we'll see this in the next novel, too), but MacInnes makes it seem all so terribly normal. Richard and Frances travel to their first country, make contact and get instructions for their next contact. But of course, as they make each sequential contact, they begin to feel that they are under surveillance. In 1940 Europe, with certain countries already under Nazi occupation, and the Nazi movement beginning to be obvious everywhere, this could turn into something very ugly. When some of their contacts start to disappear, the Myleses find themselves in serious trouble.
MacInnes uses a pace that one finds in older novels, slowly building up the tension, concentrating less on action in the beginning and more on subtle details of darkness. You can feel the Nazis slowly constricting not just the Myles, but the societies in which they operate. Writing in 1940 (the book was published in 1941), MacInness rails against Nazi ideology and cultures which either attempt to assimilate or feel that they can "handle" the interlopers. Those cultures are about to be destroyed.
A mix of lengthy descriptions, unlikely central plot elements and a measured pace may not sound gripping, but it is intensely so. The element of creepiness in ABOVE SUSPICION forces you to keep reading, worrying ever more and more about the Myles as the Nazi noose begins to slip around their necks, until a crazy action-filled ending results in significant bloodshed.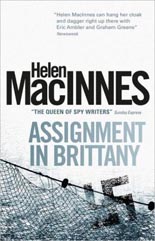 The action continues in her second novel, ASSIGNMENT IN BRITTANY. The unlikely plot this time involves one Martin Hearn, who looks so much like an injured French soldier named Bertrand Corlay that military intelligence decides to have Hearn impersonate Corlay, and send him back to Corlay's home. Corlay lives in an area of Nazi-occupied France, and it would be quite a coup to have a British agent live in the area and report on Nazi activities.
Of course, he's going to have to fool Corlay's mother, hired help and two women who are involved in Corlay's life. Seems unlikely. The Brits hope that "war changes a man" and if someone wonders why Corlay is acting strangely, they'll put it down to that.
Amazingly, MacInnes even manages to pull this off. Sure, there are complications but she's good at showing Hearn's worry about being discovered and then slowly revealing that Corlay's mother and the main servant have suspected from the beginning.
For the first half of the book, Corlay isn't in very much danger but he discovers an American hiding out on his farm. He decides to help the man escape to the border and have a boat attempt to ship him over the Channel to safety in England. This is when the Nazis arrive in town.
And it's about this time that Hearn/Corlay discovers an extremely worrying secret about the real Corlay, facts that the real Corlay never bothered to tell military intelligence. Oopsie. It plunges Hearn/Corlay into serious danger, a danger that's worth exploring due to its value to the war effort.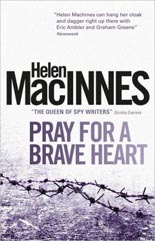 Also on my reading list was Helen MacInnes' ninth novel, PRAY FOR A BRAVE HEART, published in 1955. This was somewhat less successful, involving the return of stolen Nazi loot and the destruction of a Communist committee. Details get a little screwy (she shares this trait with John le Carré), but settings are admirably described and dialogue is up to her normal high standards.
If you like old-school espionage, you won't do better than to look into MacInnes. She has a set number of books available, having passed away in 1985, and her work is sure to provide you with many pleasant hours of thrilling reading. —Mark Rose