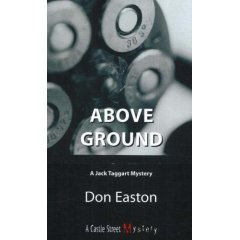 ABOVE GROUND is no sophomore slump for Don Easton and his Jack Taggart series, picking up a few months after the story of LOOSE ENDS. Now, it needs to be stated: You pretty much have to read the first book before this, since there is some major carry-over, with events from that book still being looked into. I won't go into details, so as no to ruin it, but I'll say one thing about Easton: He sure knows how to open a book in a big way.
It opens with the murder of Jack Taggart. No, not our hero, but a man with the unfortunate same name. This starts off the book brutally, and that never lets up until the final page. But this is only the first moment, and that gets into Jack's craw.
Follow that up with an attempt on his partner's family, and there is something really serious behind it all. Jack crosses off the local motorcycle gang as suspects, since he has an inside man who is nothing but helpful.
But as life goes on for Jack, he is still being looked into by his bosses trying to stop a drug-traffic trade in his area. The reason behind the attempt on his life has some connections to a previous bust he made.
For those who thought the first book was dark, this one is even more black, reaching a total "eeeew" moment on page 273. Let's just say it involves a baseball bat and some barbed wire wrapped around that item. Easton is a master at this type of revenge tale, never letting his story fall into a sense of security, keeping the reader on the edge.
In Taggart, he has crafted a character unlike any other, in that Taggert is – I'm guessing – based on his own real-life experiences. But where the line of fiction and fact cross in his writing is only known to Easton. You should be so lucky that you don't come across some of the people in this novel. I, for one, can't wait for his third effort. I don't see Easton's writing slowing down or getting stale anytime soon. –Bruce Grossman
OTHER BOOKGASM REVIEWS OF THIS AUTHOR:
• LOOSE ENDS by Don Easton