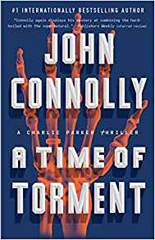 John Connolly brings private detective Charlie Parker back for his 13th novel. Now in trade paperback, A TIME OF TORMENT has all the usual characteristics expected from the series. But Connolly readers may be disappointed by the noticeable lack of Parker himself in this latest outing.
Jerome Burnel was once considered a hero. But then he was suddenly arrested for a crime he swears he never committed and sent to prison. In prison he was first ignored, then brutalized by fellow inmates. Now, with his prison term completed and a free man once again, Burnel seeks out P.I. Charlie Parker to tell his story.
Burnel tells Parker that during his time in prison, especially during the times when fellow inmates subjected him to beatings, he learned of a deity known as The Dead King. Now that he is free once again, Brunel is certain those who serve this strange entity are hunting him.
Parker traces Burnel's story to an isolated community called the Cut. For generations residents of the Cut have separated themselves from others both geographically and socially; rarely venturing out except for supplies and medical attention. Parker is convinced that the Dead King is somewhere in the Cut. But those who live in the Cut will stop at nothing to preserve their privacy, and the being they faithfully serve.
Connolly readers will immediately recognize his near-poetic prose style and will readily immerse themselves into the intimate and detailed back-stories Connolly devotes to nearly every character in the story. This includes Parker himself and the return from death experience that allows Parker to recognize the kinds of evil most never see.
Several of the opening chapters seem disconnected, but Connolly eventually brings the seemingly unrelated events together when he introduces Burnel and his tragic fall from grace.
But when the Cut and its residents are introduced, Connolly devotes huge portions of the novel to their history of terror, coercion, and often murder. The stories and writing remain fascinating, but it doesn't take long before you notice that Parker and his partners seem left behind.
Parker ultimately reappears when he seeks out the legend of the Dead King and its hold over those who serve it. But by the time Parker makes his way into the Cut and the location where the entity is rumored to be hidden, the incidents feel like rushed afterthoughts.
The combination of realistic police investigations and supernatural forces continue to make Connolly's Charlie Parker series one of the most unique in all of crime fiction – appealing to both fans of urban fantasy as well as mysteries.
But due to its somewhat awkward narrative balance, A TIME OF TORMENT is recommended only to those already familiar with Parker and his exceptional abilities. Those new to the series would do well to seek out the earlier Parker titles before following Parker into the Cut. —Alan Cranis