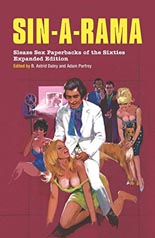 Following its now-even-meatier reissue of It's a Man's World: Men's Adventure Magazines, The Postwar Pulps last summer, the ever-mighty indie publisher Feral House does the same to Sin-a-Rama: Sleaze Sex Paperbacks of the Sixties, edited by B. Astrid Daley and Adam Parfrey. Both are excellent curios of the seedier side of American popular culture; if you can afford only one, turn tricks until the two adorn your bookshelf.
First published in 2004, Sin-a-Rama takes a deep dive into the "forgotten black sheep of the publishing industry," notes Parfrey: the X-rated paperback novel. Carrying such come-on titles as ESP Orgy, The Rape Club and Sexplosion, the whack books became so popular that one house was cranking them out at the rate of 50 per month, not to mention a magazine every day.
However, as U.S. laws loosened, thereby widening the population's access to visual pornography, the need for such books dried up. By today's standards, it's strange that content this tame is what got people so worked up — both sexually and legally. Nonetheless, yesteryear's cheap thrills are today's expensive collector's items, and Sin-a-Rama serves as a primer into this disposable, erotic world.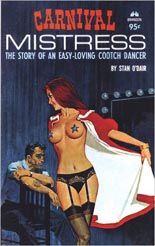 Now with 60 additional pages — primarily, Daley's chapters on swinger- and occult-themed sleaze — the book offers an historical overview before honoring the dishonorable by profiling several important artists and writers in more detail. With the notable exception of Edward D. Wood Jr., most members of the latter group churned out work while hiding behind pseudonyms; among them are crime-fiction legends Donald E. Westlake and Lawrence Block, sci-fi giant Robert Silverberg and Rat Pfink a Boo Boo star Ron Haydock, whose work included a taboo-titillator titled Ape Rape.
As with the aforementioned It's a Man's World, the bulk of Sin-a-Rama is devoted to the cover art, with hundreds and hundreds (if not 1,000) of luscious come-ons illustrated with garish colors, outrageous scenarios and (especially when Bill Ward was taking the paycheck) mouthwatering women. It's all art, whether you like it or not. These are organized loosely by category/fetish — suburban, interracial, futuristic, "butch swish" and so on — with snippets of prose for a quick taste.
Several of the titles offer a little LOL with their T&A: Dr. Dildo's Delightful Machine, Expense Account Sinners, Ringside Tarts, Carnival Mistress: The Story of an Easy-Loving Cootch Dancer, 1, 2, 3 … Swap! and The House at Poon Corners. Even better are when they come loaded with an equally far-out tagline, à la Pig-Passion Swap: "Nothing was kosher at this swingin' swap-feast!"
For enthusiasts of outré culture, this one's essential. —Rod Lott