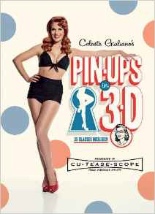 To paraphrase Patrick Dempsey's narration that opens the rather oddball (and underrated) 1988 rom-com SOME GIRLS, I love women — almost all of them.
Either purely coincidental or through calculated Orwellian means, Schiffer Publishing has released two photography books within three months' time that play directly to my admiration of the fairer, superior sex and their awe-inspiring form: CELESTE GIULIANO'S PIN-UPS IN 3-D and RETRO GLAMOUR: PHOTOGRAPHY OF MARK ANTHONY LACY. Both books are bursting with wall-to-wall — er, make that cover-to-cover — snaps of gorgeous gals. Call me chauvinist if you must, but you'll be wrong; being for equal rights and being a heterosexual male are not mutually exclusive. Why, I can utter "ERA now!" and "Va-va-voom!" in the same breath, panted though it may be.
Let's start with RETRO GLAMOUR, for no other reason than I already was familiar with the New York-based Lacy (perfect name for this line of work, that) through his bachelor-iPad e-zine, UNLIMITED. This coffee-table hardback is a lot like that ongoing publication, only without all those pesky, pesky words trying their best to distract your eyeballs.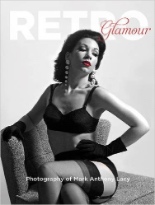 Kneeling at the altar of Bunny Yeager and Irving Klaw, Lacy aims for an authentic, spare-no-details vibe of the 1950s, often shooting in beautiful black and white. Divided by hair color, his subjects often can be found lounging in a rumpus room decorated with gaudy drapes, animal-print furnishings and/or a hi-fi ready to soothe and seduce via the swankiest singles of Hank Mancini. With their hair done up in immaculate curls and waves, the girls wear something of a uniform: heels, hose, pearls, opera gloves and the kind of lingerie preferred — and built — by Howard Hughes.
Whereas Lacy's work is sultry AF, the Philadelphia-based Giuliano clearly goes for the tease. (Not for nothing does PIN-UPS IN 3-D's cover boast of being "PRESENTED IN CU-TEASE-SCOPE.") It's not just the three-dimensional aspect that brings the retirement-era hobby of silent comedian Harold Lloyd to mind; the purposeful artifice of the vibrant, colorful backdrops does it as well.
Giuliano plops her models in playful situations: twirling a lasso, popping corn in a pan, getting a dress stuck in elevator doors — you know, the kind of "dirty" postcards your grandfather used to collect before he met Grandma … and even after, when she wasn't paying attention. Sometimes these images come accompanied with a winking phrase; for example, a blonde trying her hand at beekeeping is captioned, "This honey's all the buzz." If not for the occasional tattoo peeking from a sleeve, these pages could pass for pinups to rival Betty Grable in many a soldier's barracks. The 3-D isn't necessary to sell Giuliano's brand of sizzle, but considering how layered it is — and, therefore, actually effective — I'm glad it's there. (And yes, the necessary specs are included.)
In both cases, the artists feature real women: curves over sticks, with a little meat on the bones — all on thick, glossy paper to bring out their best, be it breast or otherwise. It's also important to note that these books are not pornographic. They're so much better than that: They're suggestive, yet unapologetically sexy. —Rod Lott