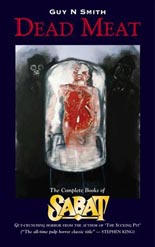 The title of this column explains all the books covered: There are no secret meanings or hoity-toity mumbo-jumbo of symbolism. Nope, these are all in-your-face and there to shock. "Graphic" and "over-the-top" describe these three novels — well, actually seven. You'll see what I mean, once we kick things off with the king of subtlety, Guy N. Smith.
DEAD MEAT: THE COMPLETE BOOKS OF SABAT by Guy N. Smith — Oh, sweet e-reader, without you I would never be able to afford half the books I've featured recently. Now for a book that could have easily been a column by itself, since it's actually a 1997 collection of all four books in the SABAT series, with an addition of two short stories. Trust me: A little of them goes a long way, to the point a friend was amazed I was able to read all four consecutively, and that person is a huge Smith fan.
With the Amazon Kindle, it was pretty easy going; I would read one, then take a day off, then go to the next one. The best way to describe this series is to take Doctor Strange, make him a former Special Air Service member and, for a kicker, make his brother the anti-Christ. Throw in a ton of sex and violence, stir, and — poof! — you have the whole SABAT series. In each book, Sabat faces some new sort of evil.
Boy, howdy, does Smith pile 'em on! We have devil worshippers, a cult of skinhead vampires who sacrifice babies, cannibals, witches, some voodoo and, to cap it all off, a trip to hell to face a cabal of demonic lords. As truly pulpy as they are, I kept coming back for more, no matter how truly ludicrous some scenes were. I mean, right after an incredibly draining sex session, Sabat is ready to blow heads off whichever monster-of-the-book it is.
The series is available as single books, but you actually would be spending more and missing out on the two exclusive short stories. But let's be honest: The cover to this collection is truly lacking. I like the DUNWICH HORROR-era Dean Stockwell covers myself.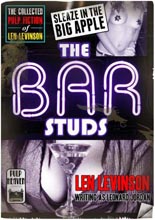 THE BAR STUDS by Len Levinson — This 1976 book is about bartenders and their wild exploits. Six stories are told, with each bartender having his own tale. As it progresses, we jump from story to story. They are pure pulp and promise all kinds of thrills.
There is Adrian, who runs a bar and seems like he is the man in charge, but it's really the woman behind the scenes controlling the purse strings. And she is none-too-thrilled when she catches Adrian in the bedroom with a waitress. Also working at the bar is Johnny Mash, an ex-con who has bizarre sex fantasies he loves to act out with women, willingly or forced. Things take a dangerous turn for Johnny when he does a job for his uncle, a man who has connections and works out of a social club.
Then there is Leo, whose story is one of the weakest, mainly because you see everything that comes his way. He is a schlub who might be a great bartender, but totally lacks charisma and is easily walked over. It's not until he hits his breaking point that he finally comes to realize he needs a different profession.
One of the more interesting stories, but in no way lurid or tawdry, is that of John Houlihan, a friendly enough guy who tends bar at the Plaza, where the elite come to drink. The two most interesting of the set could not be more different. There is Jake, who works in the Bowery and can't stand the people who drink there: the lowest of low. For him, the one shining spot is the discovery of a kitten, but, like the bar itself, even that relationship is doomed.
Finally, there is Teddy, a handsome and gay bartender who works in the Village, where his customers drool over him. Teddy loves to play games with them, but things take a horrific turn when he goes home with the wrong guy.
These stories all intertwine, and the book flies and flows by pretty easily. It's one of those books that was made to titillate to the reader. Levinson is a writer who should gain more exposure, and thanks to ebooks, his work is easy to come by. I highly recommend his World War II tale, DOOM PLATOON.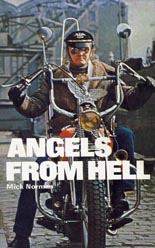 ANGELS FROM HELL by Mick Norman — Bikers! Plain and simple, that's what this book is all about. Based in the near future of the late '90s, it was written in 1973, so biker gangs have been completely outlawed, with the Hells Angles in the sights of the government, which kills off Sonny Barger by cutting his brakes.
But that's not what this book is about. It's a series of vignettes about a UK group called The Last Heroes, all former Hells Angels. The story is threadbare, there to shock readers with tales of initiations into the gang, and tons of violence and brutality. We follow Gerry as he joins this group and rises to power. That's really it. The culmination is that the bikers are hired to be extras — and realistic extras at that — for a cheap quickie movie. Shades of WILD ANGELS there.
Things take a violent turn as bodies pile up rather quickly, be it the bikers or filmmakers. You get a sense that the writer — who is really Laurence James, creator of the DEATHLANDS series — watched more than a few biker movies. Read the far superior and actually based-on-fact book by Hunter S. Thompson. If you want a cheap thrill, though, go with Norman. ANGELS FROM HELL is actually the first of four books to feature these characters, all of which can now be found in ebook form. Or just watch this the two scenes below for 90 minutes, since that's pretty much the book, minus the tunes. —Bruce Grossman