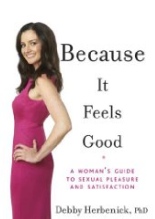 Just because BECAUSE IT FEELS GOOD: A WOMAN'S GUIDE TO SEXUAL PLEASURE AND SATISFACTION is written for the ladies doesn't mean a guy like me can't learn something from it. For instance, there are roughly five different shapes of a vagina, including "slug" and "pumpkin seed."
Oh, and the book's author, Kinsey Institute educator Dr. Debby Herbenick, was told to keep her vulva puppet far away from President Obama. For more on that story — as well as the skinny on sex noises, vagina tents and little somethin'-somethin' called the towel trick — read the book.
Herbenick wants women to enjoy sex more (hear, hear!), and her advice is common-sense stuff. But common-sense stuff is sound, and Lord knows too many people fail to follow even that. It won't hurt women to hear it again, especially from someone as frank, as no-nonsense and, yes, even as empowering as Herbenick (who, apropos of nothing, looks not unlike erstwhile WONDER YEARS star Danica McKellar).
And men, it'll only benefit you in the long run to read it, too. Knowing what makes a woman tick — not just physically, but emotionally and psychologically — will help you press all the right buttons, G-spot included.
I must admit, I'm still a little horrified by the illustration on pg. 138. It's of a sex toy … which appears to have been designed by David Cronenberg. —Rod Lott