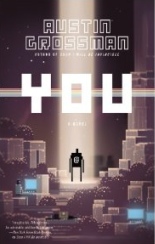 I'm telling you, Austin Grossman's YOU may just be the best fiction book I've read in the last two years. It is gloriously ambitious; its language is ethereally beautiful; and its story is sometimes almost incomprehensible, but at the same time, weirdly profound.
It is a coming-of-age tale, of both the young men and women who toiled through high school on the margins while they discovered the almost impossibly powerful world of computing, and the coming-of-age of the video-game industry itself.
I've spent all my working life in either publishing, game design or game journalism. It sounds like the life author Grossman has had as well. His first book, the critically acclaimed SOON I WILL BE INVINCIBLE, concentrated on the world of real-life superheroes. His new work, YOU, is an exploration of the video-game industry and the peculiar characters who run one of the greatest game-design houses, the fictional Black Arts Studios.
Grossman "gets" it. He understands the world of gamers and the generation that grew up with this amazing technology that our parents could only barely fathom. In the first few pages, he describes so many beautiful "moments" of a technology-driven life that any reader who has grown up in front of a monitor will instantly connect, instantly be sucked into the storyline.
He understands interactivity, the story a game tries to tell you, and a different story of your own that you unconsciously write as you play a game. And he does this all with such luminous magical prose that I would stop after a couple of paragraphs and re-read some of his sentences or analogies and just let them play across my mind for a few minutes.
Remarkable. Engrossing.
Russell, Darren, Simon and Lisa were once friends in school and they bonded over an early computer game that they wrote, REALMS OF GOLD. Eventually, Russell distanced himself from the others in an attempt to study law. The remaining three continued, and in time, Simon and Darren formed Black Arts Studios to market their ever-evolving game. Lisa joins them as a tools programmer. Simon, arguably the smartest of them all, passes away in a freak accident, but the studio survives. We enter the story when the studio has been successful for a long time, and Russell comes back to them, hat in hand, looking for a job.
He gets it, suffers from impostor syndrome, and then the world goes dark when a venture capital firm buys the game studio, and Darren leaves the company, taking with him most of the best programmers but curiously leaving Lisa behind. Russell is promoted to lead designer and it turns out that the studio is actually in grave financial danger, with its continued existence resting on the success of the game for which Russell is now responsible.
It gets worse. During a play-through, impossible things begin to occur, things that cannot be accounted for in the almost arcane code library that has been cobbled together over the years by not only Simon, but by any programmer who helped work on the game. Chaotic and unexplainable things occur. An unstoppable weapon can be found and large segments of the game population laid to waste. It's a bug, but not just a simple bug, an ineradicable and unfindable bug that threatens more than just Black Arts' product.
That's enough plot. There's more behind Grossman's words. There are more ideas in YOU than in 10 books of most speculative fiction. This is a thoughtful and instructive look at the computing life, the power and the magic. This book ranks up there with the greats of contemporary computing fiction, such as Ellen Ullman's THE BUG and D.B. Weiss' incomparable LUCKY WANDER BOY.
If you enjoy video games, or if you would like to understand someone who does enjoy video games, or if you prefer a pleasantly philosophical look at what it means to be you in an interactive world with an almost unlimited amount of choices, then you will certainly enjoy Austin Grossman's YOU. It gets my highest recommendation. —Mark Rose