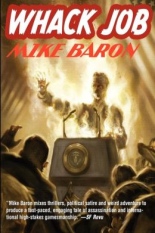 Sometimes it happens: People just explode or, in the case of WHACK JOB, burst into flames. That is the central plot to the new novel from Mike Baron, better known as the co-creator of the comic-book series NEXUS and THE BADGER. (Trust me, folks: They are both worth seeking out if you never heard of them.) You'll wish WHACK JOB were a comic book just for its final few pages.
But that's getting way ahead of myself. This is a straight action story with conspiracies, shadow groups, a lone-wolf hero and, of course, people burning up. The story opens with a military operation delving into a total cock-up for the start, and we meet Otto "Aardvark" White as he and his men are about to invade Muammar Gaddafi's palace.
But what they find are troops at the ready and not Gaddafi, but Gaddafi's son. Most of White's team is wiped out, leaving him to fend for himself. But before that, something truly strange happens: Gaddafi's son burst into flames. No bombs or lighters in his hands — just spontaneous human combustion.
Fast-forward to today, where a senator meeting his mistress at a secluded retreat suddenly goes up like a blue-tip match. He's part of a string of these cases, all of which are being hushed-up all over the globe and mainly affecting world leaders or people in high positions. For a detailed investigation, White is called back into service, even though he has mental issues from his last mission.
The story never feels rushed. Baron lets it grow naturally while also keeping the reader engaged. Baron uses his time writing comics to his advantage, since he definitely has a keen on eye on pacing and how to keep the pages turning. The plot really goes full-bore, so to speak, as White makes a connection that's been missed before: that there might be a link between all the cases and a mysterious campground/think tank.
To go further into details will ruin some of the great surprises Baron has in store. Long before it's revealed why people are blowing up, you are hooked. The story might seem to go off the rails, but that's what is so great about it. It's truly over-the-top fun, but what would you expect from the man who created a hero who hunts down mass murderers to fuel his power?
WHACK JOB is a blast that never takes itself too seriously. It's a perfect combination of men's adventure and science fiction. —Bruce Grossman