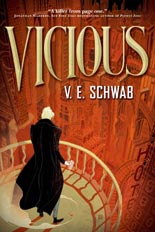 What's a superhero story without any superheroes look like? V.E. Schwab runs with — sprints past, leaps high into the air over, does a complicated series of tumbles around, throws shuriken and spits flames at — that premise in the dark and utterly entertaining VICIOUS.
Or maybe the premise is more devious yet. As the protagonist Victor (who may just be the lesser of two evils) suggests, the ExtraOrdinaries (or EOs) who gain superpowers "were damaged, to say the least. But these words people throw around—humans, monsters, heroes, villains— … it was all just a matter of semantics. Someone could call themselves a hero and still walk around killing dozens."
Victor and his college roommate, Eli, begin examining what might make an EO as a research project in a class. They're bored to tears by the insufficient rigor of school … but this question energizes them. Their experiments are bleak exercises in one-upmanship, the young men pushing each other competitively toward more dangerous — and ultimately more successful — actions.
And, through the years, dozens are killed. The novel's first half fractures time, flipping back to the origin story and flashing forward to the impact — and an intervening series of nasty adventures — for the two men. Eli emerges with a calling, envisioning the emergence of these powers as the death of the human. His vocation is to track down and wipe out every EO he can find. (His own powers are a gift from God.)
Meanwhile, Victor is imprisoned, escapes and simply wants to track down and wipe out Eli. The boys' contest is complicated by the arrival of two EO sisters with their own rivalry, and the second half of the novel is a tense countdown to the collision of these forces.
Schwab's alter ego is Victoria (author of THE ARCHIVED), who doesn't exactly seem mild-mannered, but whose work has been primarily speculative YA literature. VICIOUS is not for shrinking violets or a "mere" YA crossover. While a blast for comic-book fans, it has a dark edge and a dry, bitter wit that opens the tale up beyond the boundaries of the superhero tale.
The novel is also a marked improvement on the interesting plot, but somber plodding angst of M. Night Shyamalan's UNBREAKABLE. VICIOUS is just as smart, and a lot more fun. —Mike Reynolds