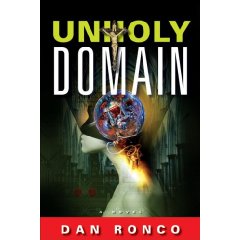 Dan Ronco's UNHOLY DOMAIN plops the reader smack dab in the middle of the next Great Depression, in 2020. Factions that can only be described as bad and worse square off as each attempts total control of the world. Our hero David Brown swims in the middle of this conflagration, struggling to stay afloat.
High-tech gadgets are directly to blame for the downturn in the economy and the deaths of millions worldwide when a program called "Peace Maker" was released through the 'net. All tech is outlawed which has lead to a tech-savvy black market rivaling any illicit drug or sex ring.
It's been 10 years since the release of Peace Maker and David Brown's life just sucks. His deceased father, the creator of the program, was responsible for the deaths of millions when he unleashed the artificial intelligence that attempted to take over the world. It would have succeeded if Microsoft — sorry, Vantage Point Systems — hadn't stepped in at the last second and saved the day.
On the tenth anniversary of that tragic date, David receives an automated scheduled message from his father outlining his innocence and starting David on a journey to save the world and reclaim his father's good name. David has one ace up his sleeve: his ability to communicate using programming code that surpasses his father's. David's is capable of direct interface.
Our protagonists comprise the Domain, an exclusive, secretive group of Technos led by VPS founder Diane Morgan and their top gun DoubleD, a 6-foot-something Amazon of a woman blessed with beauty and — you guessed it — very large breasts. They're out to remake the world in a high-tech image. On the other half of the coin is the Church of Natural Humans, led by Adam Jordan, a character reminiscent of Charlton Heston from that time he gave his speech as National Rifle Association president, raising his musket over his head and declaring "from my cold dead hands."
Jordan's military faction — aka the "Army of God" — and its commander Moesha, an athletic, ebony skinned woman who has given herself mind body and soul to the cause, are determined to return the world to the glory of the 1950s by waging holy war against all things tech.
David slowly pieces his father's innocents together and picks up a few allies along the way. Nearing the climax, the Domain and the Church go head to head and both Marvel-type heroines meet each other in one button-busting, elbow-throwing, foot-kicking frenzy. "The women faced each other, the gun between them, the barrel pointed up. Both were sweating and breathing hard as they struggled for the pistol," Ronco writes. I won't tell you who wins, but it's getting hot in here, or maybe it's just me.
The story ends with the larger battle still in doubt and a quest for David far beyond just saving his father's good name. Although it would work better as a comic book, UNHOLY DOMAIN is a quick, fun read through a future I hope never comes to be. —Bart Brunscheen