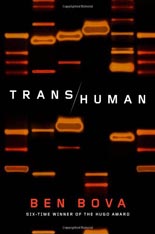 Science-fiction veteran Ben Bova takes a break from his futuristic "Grand Tour" explorations of outer space and the resulting human drama. His latest novel, TRANSHUMAN, is more a speculative medical thriller enhanced with commercial and political overtones. When these enhancements motivate the main characters, the results are both thought-provoking and suspenseful.
Luke Abramson, a brilliant cellular biologist, is battling lung cancer in his twilight years. Yet the one true joy in his life is his 10-year-old granddaughter, Angela. When Angela is diagnosed with an inoperable brain tumor and given less than six months to live, Luke knows it time for drastic action.
He suggests giving Angela a new enzyme drug treatment he has been researching. Luke is certain the treatment will alter her telomerase count and kill the tumor. Angela's parents, as well as Dr. Tamara Minteer, the young girl's attending physician, object to subjecting her to Luke's treatment. They argue that it has not been tested on humans and, therefore, is a long way from FDA approval.
Fearing these endless arguments and delays will cost Angela her life, Luke checks her out of her Boston hospital and sets off on a cross-country race to find medical facilities run by his former graduate students who will allow him to treat his granddaughter. Just before he leaves the city, Dr. Minteer decides to accompany him – a move that will help insure her safety, but almost certainly end the physician's career. Her concerns are doubled when Luke decides to inject himself with an enzyme that will reverse his body's aging and give him more strength and stamina for his trek.
 
Angela's parents immediately notify law enforcement, and soon an FBI agent is on Luke's trail. Before long, other individuals take a serious interest in Luke's journey. These include the wealthy director of the medical corporation who has funded his research, and representatives from the federal government going as far up as the White House. Their concerns, however, are far removed from Angela's health, and they are determined to capture Luke at any cost and prevent him from publishing the revolutionary results of his treatments.
 
Bova wastes no time thrusting us directly into the narrative's conflict. Using just enough background to get us confidently acquainted with Luke and the other central characters, we are immediately presented with his dilemma, and by page 30, he, Angela and Tamara are racing westward out of Boston.
 
The perspective shifts constantly back and forth from Luke to the others involved in the chase. Using short and direct chapters, the author effectively informs us of each character's motivation while building and sustaining the tension and suspense.
 
Amazingly, Bova also manages to explain the function and importance of telomerase and other related medical processes essential to the plot without drowning us in a sea of esoteric jargon or subjecting us to long-winded exposition. At the same time, he never loses sight of his characters or the emotions that sustain our interest. Luke discovers, for example, that along with recapturing his youthful strength, his self medication includes the unsuspected – and at times baffling – side effect of re-energizing his libido as well.
 
The chase leads to an inevitable confrontation of the main characters, and it is here where Bova risks becoming overly didactic and preachy in Luke's rant about how government and commercial concerns should never restrict medical research and advancements. These points have been more than effectively conveyed throughout the story and do need such overstating here.
 
Fortunately, the rant does not go on for too long, and what we recall most vividly are the risks and rewards of Luke's journey.
 
Along the way, Bova again proves himself a seasoned master of science fiction that takes us not only thousands of miles above the Earth and eons into the future, but also to the science of our contemporary world and how it challenges our way of life as well as our notions of living. —Alan Cranis