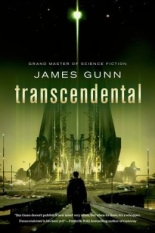 It's been almost eight years since science-fiction author James Gunn has produced a new novel. That's long enough for him to be a total stranger to a new generation of readers unfamiliar with such notable, award-winning works as THE IMMORTALS or THE LISTENERS, and unaware of his efforts to promote the genre thorough his founding (and currently serving as professor emeritus) of the Center for the Study of Science Fiction at the University of Kansas.
 
Luckily TRANSCENDENTAL is possibly his finest novel to date, with an awe-inspiring, thought-provoking and suspenseful plot and a cast of characters intriguing enough to please both longtime sci-fi fans and newcomers.
The setting is the far future where after long wars between humans on Earth and several alien civilizations an uneasy peace is finally in place. A new religious movement has emerged and a group of species from many different planets are passengers and pilgrims aboard a rickety, former warcraft, bound for the farthest edges of space in search of the fabled "Transcendental Machine." To help pass the time, as well ease the anxieties between species, they share their individual stories.
Among the few human passengers is Riley, a bitter, cynical war veteran. What the other pilgrims don't know is that Riley is on a secret, government mission to find the mysterious Prophet, rumored to be among those on board, and discover the truth behind the Transcendental Machine and its power to help all who seek it find their truer, higher calling. It is feared that this Machine and its believers pose a threat to those in power and might possibly bring on another war.
 
During the voyage, violence and other acts of foul play fall upon the pilgrims and members of the ship's crew — causing Riley and the others to fear that they may not survive to find the Transcendental Machine and know its transformative powers.
 
Gunn doesn't hide the similarities between his futuristic tale and Chaucer's classic CANTERBURY TALES. In fact, Gunn even names the pilgrimage space ship the Geoffrey and, like Chaucer, allows individual pilgrims to present their stories in separate chapters bearing their names.
In these supplemental chapters, Gunn allows his prodigious imagination full run. Each pilgrim's story includes intricate details of their planet, civilization, and culture, as well as their encounters with other species as contact is made between planets. What they all share in common, sadly, are the wars that nearly destroyed each of their worlds and, ironically enough, caused them to seek a more elevated existence through the Transcendental Machine.
 
Older or more seasoned readers will recognize these themes and techniques as the ones that distinguish the more memorable of Gunn's previous works. Yet here they are given a stronger and more resonating expression.
 
The central character and catalyst remains Riley, equipped for his mission with a microchip "pedia" implanted in his brain that serves as an instant interpreter of the various alien languages, a source of information and background, and as sort of a computerized, Jiminy Cricket-like second voice conscience. The hard-bitten war veteran at first hides his disbelief in the faith expressed by his fellow passengers, but begins to alter his personal views — as well as the parameters of his assignment — as he learns more about the pilgrims and their personal desires.
 
TRANSCENDENTAL will undoubtedly be welcomed by readers who have wondered what Gunn has been up to all these years. In a dreamed of, somewhat science fictional perfect world, it will also bring Gunn to the attention of readers who have yet to discover the wonder and enjoyment of his earlier works.
 
It's a win-win scenario either way! —Alan Cranis