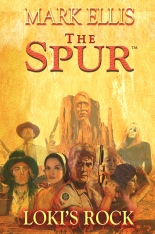 You used to be a rabid reader of paperback adventure series like DEATHLANDS and OUTLANDERS, until you felt they were repeating themselves so much, you wondered why they even bothered coming out with new ones. Well, Mark Ellis — aka James Axler, who wrote the bulk of both series and left years ago — has taken those ideas to come up with a fresh new series, in THE SPUR: LOKI'S ROCK.
Note that this is not a rework of those series, as Ellis sets his creation on a new planet in a distant galaxy in the distant future. The intro pages set up the series very clearly: The reader will follow Col. Quentin Crockett and his Offworld Operations team on the planet Loki, part of the Orion Spur. It's been close to 200 years since a giant catastrophe turned the planet on its head, and Crockett is given the job to explore Loki and recover information.
With that set up, the story goes into full-on action. Crockett and team come across a woman who has no memory of why she is wondering the wasteland. They are warned not to investigate the area known as Loki's Rock, but that's part of the book's title, so we know they will. Of course, the area is controlled by one man, Django Bonner, who has assumed the ideas of the Third Reich for his own perverse control. The crew witnesses the brutality of Bonner's control over the town.
Ellis has set out to come up with a new set of characters he can play with. This is fully his creation and it seems he has plenty of ideas that hopefully will fill plenty more installments to come. Once all of Loki has been investigated, he can easily move the action to other planets in the area. If you want a change in your men's-adventure reading, THE SPUR will satisfy those needs. —Bruce Grossman