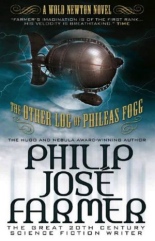 Among his wide body of innovative fiction, the late science-fiction writer Philip José Farmer produced numerous biographical works about many of his favorite fictional characters. The results were two full-length biographies in TARZAN ALIVE: A DEFINITIVE BIOGRAPHY OF LORD GREYSTOKE and DOC SAVAGE: HIS APOCALYPTIC LIFE, and several articles, short stories and novels in which Farmer revealed the "hidden truth" about these icons of genre literature.
Now Titan Books wisely has decided that a new generation should know these truths, and is reissuing several of these works, including Farmer's THE OTHER LOG OF PHILEAS FOGG, first published in 1973.
Over the course of several works, Farmer set out to prove that many figures of popular literature — such as Tarzan, Doc Savage, Sherlock Holmes, Dr. Fu Manchu and others — were not only real, but distantly related, possibly immortal and, in many instances, not at all what the better-known accounts of their lives said they were like. This included Phileas Fogg, the man introduced to readers in Jules Verne's 1873 novel, AROUND THE WORLD IN EIGHTY DAYS.
 
Verne's enduring story is based upon Fogg's diary. Farmer, however, discovered another hidden and secretly encrypted log also kept by Fogg; after years of decoding and related research presents the real story behind the man's legendary race around the world.
 
Fogg was, in reality, a descendent of one of two alien races that crashed on Earth hundreds of years ago and has since carried out a hidden feud while living among us humans. A powerful teleportation devise, known as a "distorter," has fallen into enemy hands, and Fogg is enlisted to follow the enemy and retrieve the distorter before it is used to annihilate his race and countless humans along the way.
 
The events told by Verne are basically accurate, but the reason behind all these events, as well as the characters themselves, is something altogether different. As we learn, Fogg did not accept the challenge to travel entirely around the globe in 80 days simply to prove a point and win a bet. In reality, he was sent upon a mission, along with his valet, Passepartout (another alien agent), to retrieve the distorter from his deadly rival, Captain Nemo, also known as James Moriarty.
 
Farmer presents all of this, as well as several events never before revealed, in the semi-detached style and tone of an academic. Yet he clearly is having lots of fun, so a subtle giggle is felt beneath all the seemingly serious exposition. The result is studious retelling of Verne's novel, full of new action, several side stories and plenty of subtle humor.
Was Farmer poking fun at historians who for years have been retelling well-known stories in light of recently discovered documents and facts? Well, maybe just a little. His real intention was to pay loving tribute to all the characters and authors who fired his and countless other young imaginations, and also demonstrate why these characters seem as "alive" today as they did when first published.
Mostly, however, Farmer wanted to have some fun with these characters and authors, and these works — much like those he pays tribute to — still amaze and delight us with the depth of their complexity and stunning imagination.
 
This new Titan release includes the interior illustrations by Rick J. Bryant from an earlier edition, and is highlighted at the end by an article and chronology by Win Scott Eckert that helps puts Farmer's "Wold Newton Universe" (named after the location of a critical event) in perspective, while eluding that Farmer himself might very well be a descendant.
 
Obviously, a prior familiarity with the Verne novel (more so than any of the many movie adaptations) is essential to fully enjoying this work. And what better reason to finally read, or re-read, this classic than to immediately follow it with Farmer's revelations?
 
Kudos to Titan for rescuing Farmer from the void of out-of-print obscurity. It is an absolute joy to have this and the other titles in the reissue series available again. —Alan Cranis