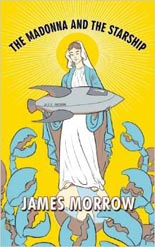 Science fiction isn't only all "that Buck Rogers stuff," as one character derisively claims in James Morrow's THE MADONNA AND THE STARSHIP. A primary objective, as the narrator Kurt Jastrow notes, is worship in the "church of cosmic astonishment," to find that perfect mix of narrative dash and dizzying concept which keeps the best stuff "on the proper side of the rift that separates exhilarating junk from irredeemable dreck."
Morrow's work will often self-consciously dive into the Dumpster, pulling out of the garbage pile some half-baked old-school detail and—with a big smile on his face—spinning it into philosophy. As indebted to Calvino as to pulp, his very best novels (like the classic TOWING JEHOVAH) are sharp satires willing to risk a bit of "sophomoric scoffing," too. THE MADONNA AND THE STARSHIP is, alas, not one of his best, but it displays his characteristic panache and may be (for newbies) a nice entry point.
Kurt Jastrow wants to write idea-driven pulp, but makes the rent with his work writing serial science-fiction for NBC during the "Golden Age of Television." Jastrow plays up the exploits of Brock Barton, and closes each story arc with his own appearance as "Uncle Wonder," televising from his "attic" experiments based on the week's adventures that kids can try at home.
One afternoon post-show, the fake television in his attic starts communicating with Kurt. Two big, blue lobsters on the screen claim to be envoys from Qualimosa, a planet riven by civil war between the forces of revelation and rationalism. These two — Wulawand and Volavont — want to give Jastrow the Zorningorg Prize for his efforts expanding "scientific enlightenment."
The downside comes when the aliens also discover the network's Sunday morning programming, which includes a series aimed at exploring questions of faith. These fierce "logical positivists" are outraged, and set up a death ray to beam out with the upcoming episode of the show, destroying all believers watching. This sets off a farcical rush for Kurt and Connie to revise the script, trying to reshape an exploration of Jesus' resurrection as a blasphemous satire.
And it's hard to complain too much about a novella that manages to include a line like "'I've heard that four out of five elementary school teachers recommend Ovaltine,' said Jesus." But the energy here seems more manic than funny, and the ideas have moral fervor (as Morrow makes a case for a more inclusive secular humanism) but tend not to surprise.
JEHOVAH had the body of the dead God fall into the sea, and its satire was rich, strange, surprising; MADONNA succeeds more in its nostalgia for a golden age (of television and science fiction) than its melding of comedy and concept. I can't recommend his older novels more highly, but this one is for fans or maybe for those wanting to sample the author before taking a plunge. —Mike Reynolds