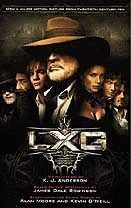 Quick! What's the last movie novelization you read? William Kotzwinkle's E.T., right? Me, too.
Movie novelizations are a strange beast. Why read a book that's destined to be worse than the movie it's based on, as most read like sloppy one-drafters, existing only as a marketing tool. But Kevin J. Anderson's THE LEAGUE OF EXTRAORDINARY GENTLEMEN is an exception.
Having given up novelizations in junior high, I would have never read it, had I not recently enjoyed Anderson's THE MARTIAN WAR. Both take well-established literary creations and reimagine them in new tales of the fantastic in a historically accurate setting. So I gave GENTLEMEN a chance, even if its team-fights-for-the-world plot is nothing fresh. Half its appeal is in reading the exploits of classic characters like Allan Quatermain, the Invisible Man, Captain Nemo, Mina Harker and Dr. Jekyll and Mr. Hyde. After all, H.G. Wells and Robert Louis Stevenson's aren't pumping out new stories anymore, so why shouldn't someone else take up the slack?
Anderson's writing style is lively and reverent to the characters' pulp origins. It also closely follows the script for the 2003 Sean Connery film (which is, in my opinion, vastly underrated), so if it tends to drag during certain scenes, that's because Anderson is following a plot not of his own making. True, you're better off reading Alan Moore's LXG graphic novels (still the most brilliant idea in comics history), but Anderson does elevate what should have been crap up to the level of, say, a Twinkie.