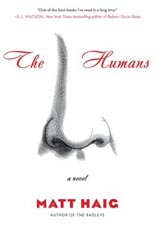 Novelist Matt Haig previously observed the dynamics of family life in THE RADLEYS, where the family was made up of vampires. He utilizes this outside-looking-in perspective again in his latest work, THE HUMANS, but expands it to take in the entire planet and its homo sapiens inhabitants.
 
An agent from the far-off planet of Vonnadoria is sent to Earth and takes on the form of Andrew Martin, a prominent professor of mathematics at Cambridge University in England. The real Andrew Martin had discovered proof of the Riemann Hypothesis, a complex mathematical equation that holds the secret to advanced technology and evolution. But the Vonnadorians don't believe humans are ready for such a huge advancement, so the agent's mission is to destroy Martin's work and eliminate anyone and everyone who may have known about his discovery.
The agent is only minimally prepared to deal with humans, and is immediately repulsed by them and their various odd customs and behavior. Yet, as he eventually makes his way into Martin's family, he cautiously begins to carry out his mission. Along the way, however, he discovers such things as music, poetry, wine and other human creations. Through these and some of his various encounters, the agent begins to reassess his opinion of the humans and questions the severity of his mission.
 
But the agent's supervisors — the "hosts" — have him under constant observation and are concerned about his hesitancy. They warn him that if he doesn't carry out his mission, he will be replaced by another agent who will.
 
The novel is presented as a first-person recollection by the unnamed agent, who we see and know only in his Andrew Martin disguise. From its distant, academic-styled opening, Haig then immerses us in a series of events that provides ample opportunities for satiric and hilarious observations of almost every element of human beings.
The narrator, for example, was unaware of the value of clothing. So when he's first discovered running around naked near the university campus, he is immediately arrested and jailed. Then his erratic behavior is eventually excused as a result of the intense stress he was suffering due to his work.
 
Observing humans from the point-of-view of extraterrestrials is not a new theme, especially for longtime science-fiction readers. Yet Haig makes it seem fresh and new, thanks to the sincerity of his characters and his unassuming prose style. The narrator's transition from curious but disgusted misanthrope to caring and compassionate participate is gradually carried out and wonderfully effective and credible. Poetry and music are some of the keys to the narrator's discovery that love is perhaps the most important and defining quality of humanity — a quality he comes to understand and practice as well.
 
The narrator's conversion, of course, then adds tension and suspense when the hosts decide the narrator is no longer capable of his mission and step up their attempts to eliminate Martin's knowledge and closest associates, including his family.
 
Those who would otherwise avoid science fiction will find lots to enjoy in Haig's latest work, especially with its faint echoes of the late Kurt Vonnegut. Sci-fi die-hards, while already familiar with the theme and technique, will also enjoy the author's various and assorted jabs at the backwards human species — especially how they underrate the hidden power of mathematics — and how Earth compares to the apparent Vonnadorian paradise.
 
It's not often that a novel can appeal so much to both camps. —Alan Cranis