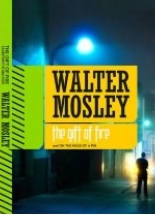 Walter Mosley has never shied away from big, complex topics. His popular Easy Rawlins mystery series subtly traces the history of the black migration in the late 1940s from the south to California, while his more recent Leonid McGill series examines the ambiguous character of crime and criminals.
Now, the author takes on even bigger, damn-near-cosmic topics — such as the meaning of life and the nature of good and evil — in a proposed series of six short novels under the heading of "Crosstown to Oblivion." THE GIFT OF FIRE and ON THE HEAD OF A PIN are the first two, published together in an amusing flip-book format.
The titan Prometheus, punished by the gods for bringing fire to man, escapes his perennial torture and transports himself to the modern-day inner city of South Central L.A. in THE GIFT OF FIRE. Disheveled and odd-looking, he immediately is arrested and taken to jail where he is befriended by Nosome Blane, a local criminal and alcoholic.
Once released, Prometheus meets up with Nosome and is introduced to Nosome's 14-year-old nephew, Chief Reddy, a sickly young man bedridden most of his life. Yet Prometheus sees Chief as the chosen recipient of his second gift of fire, which could possibly alter humanity's path toward self-destruction.
Immediately cured, Chief devotes himself to imparting the wisdom of compassion and love to all. His messianic teachings and reputation spread quickly, and eventually come to the attention of the U.S government, who suspect a subversive purpose to his influence.
 
Joshua Winterland, the narrator of ON THE HEAD OF A PIN, is an employee at Jennings-Tremont Enterprises. His job is to chronicle the company's design and use of advanced animatronic software that produces live-action movies which combine living actors with those long-dead legends. 
When he asks one of his co-workers about the application of its new software, she answers, "We will be one step down from the Creator. Imagining a world and then making it." When they test the software on a huge projection devise the call The Sail, the JTE employees discover that they have created a portal into a different dimension.
Winterland, who finds himself uniquely attuned to the Sail, learns the fascinating, but completely unanticipated reality of humanity's history and destiny. But then members of the military learn about the Sail and try to recruit its power as a potential weapon.
 
The combination of mythical/speculative and contemporary settings and characters in both short novels makes for fascinating reading. This is especially true in FIRE, where Prometheus sadly realizes what has resulted from his first gift to humans, and then, by transporting his spirit into young Chief, sets about to correct these mistakes. Things get a little muddled in PIN, except in those moments where the Sail seems to read into individuals' souls and projects the results into revealing and often shocking images.
 
The government obviously plays the role of interfering villain in both stories, which is perhaps their weakest and most predicable characteristic. But Mosley balances this with many unexpected surprises and twists and manages to cover an impressive amount of time and events in both short novels.
 
Mosley is much too clever to offer pat answers or solutions. So if these first two titles are any indication, the "Crosstown to Oblivion" stories will present readers with science fiction and urban fantasy stories that ask, "What if … okay, now what if?"
 
Both stories are enhanced by evocative black-and-white illustrations. Sadly, no illustration credit is listed on the dust jacket or publication page. (Are they the work of Mary A. Wirth, credited with the book's design?) Let's hope Tor corrects this omission in forthcoming releases.
 
These stories are obviously a departure for Mosley, and might be a bit disorienting for those who have enjoyed him primarily as an entertaining and probing author of crime fiction. The rewards are well worth the effort, and Mosley has again secured his position as one of most worthy — and now varied — contemporary American authors. —Alan Cranis