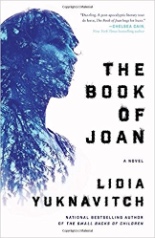 Novelist Lidia Yuknavitch is not a science fiction author. But you wouldn't know it from reading THE BOOK OF JOAN. Like several contemporary authors, Yuknavitch finds fertile ground for her ideas and expressions within the troupes usually reserved for sci-fi. The result is a stunning and often unsettling work that, like many classics of genre fiction, is memorable for ts creativity as well as its relevance.
The setting is the near future,; a time when world wars have transformed the Earth into an uninhabitable, radioactive battleground. Surviving humans live aboard CIEL, a huge satellite platform orbiting the dead home planet. But over the course of years humans have become sexless, hairless, pale white creatures living in isolation. CIEL is ruled by Jean De Men, a bloodthirsty dictator who has turned CIEL into a police state.
One CIEL resident is Christine Pizan. Her specialty is skin grafts – burning the words of stories onto the skin of her fellow residents as well as her own. Christine has decided that her final masterwork will be grafting of the story of Joan of Dirt – a dissident warrior during Earth's final days before the retreat to CIEL.
But Jean De Men has censored the story of Joan, fearing it will awaken long-suppressed feeling of rebellion among the CIEL population. De Men will stop at nothing to keep the Book of Joan from being retold – even threatening the life of those Christine holds most dear.
The novel is told through Christine's first-person perspective. After the first few chapters, however, Yuknavitch shifts the narrative from Christine's observations of life aboard CIEL to the story of Joan and events that made her into such a celebrated hero. From that point on the story shifts back and forth between Christine's life and the Book of Joan that Christine is grafting on to the skin of her fellow CIEL residents.
Yet the tone of the two narratives remains consistent. And it is this tone — with its detached, muted sense of resignation laced with occasional stark insights – that unites both stories.
Joan is obviously based upon the legendary Joan of Arc. And it is easy to see why Joan's heroism, guided by her deep-seated yet unproven and inexplicable inspiration, is such a threat to the power-hungry Jean De Men.
It is this weaving of the story of Joan, along with the many creative but depressing reflections of how humanity has de-evolved aboard the CIEL, that sets THE BOOK JOAN apart from the many post-apocalypse tales crowding bookstore shelves these days.
Science fiction fans will sense echoes of Ray Bradbury's classic FARENHIET 451 in Yuknavitch's novel. Where as Bradbury's rebels become "living books" by committing selected works to memory, Yuknavitch has the stories burnt onto the skin of her characters. The first line of Bradbury's novel is, "It was a pleasure to burn." After a brief prologue Yuknavitch introduces Christine's voice with the statement, "Burning is an art."
But while both novels deal with the dangers of censorship and suppressed expression in the near future, there is more than enough to distinguish Yuknavitch's novel from Bradbury's. You'll probably have to leave your bookseller's science-fiction section and scan the shelves of general fiction to find THE BOOK OF JOAN. But this little extra effort is well worth it. —Alan Cranis