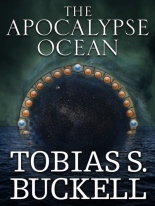 Like a lot of readers in the science-fiction community, I've been a fan of Tobias Buckell's since I picked up his first novel, CRYSTAL RAIN, and its two sequels, RAGAMUFFIN and SLY MONGOOSE — not to mention his stellar first short-story collection, TIDES FROM THE NEW WORLDS, which is an utter delight from beginning to end. Buckell brings to his work an unrivaled sense of pacing, postcolonial sensibilities informed by his Caribbean upbringing, and a fresh take on the tropes and technologies that make the genre so appealing.
Therefore, I was surprised to find out on his blog a couple years back that the fourth novel in his Xenowealth saga, originally titled DUPPY CONQUEROR, had been dropped by Tor in favor of something fresh — and so in February, fans of Buckell's were given ARCTIC RISING instead: a near-future, all-too-plausible take on the technological and geopolitical consequences of global climate change.
A short story titled "Placa del Fuego," published in CLARKESWORLD magazine in 2009, seemed to signal the end of the Xenowealth series — of Pepper, Nashara and their quarrelsome alien overlords.
Then Buckell announced on his website that he'd found another viable avenue for getting the fourth book in his series into readers' hands: Kickstarter. By crowd-funding the novel ahead of time, taking pre-orders and offering various rewards to backers of the project, he felt the modest advance would allow him to carve out time away from his agented novel projects and freelance work to make the novel he'd always wanted to deliver finally happen.
Months later, fans and backers — myself among them — now have the finished book on their Kindles, Nooks and other devices in ebook format. After all the trouble of such an ambitious endeavor on the author's part, and the $50 I pledged to snatch up a limited-edition hardcover copy, it's worth asking whether the finished product is worthy of all the hype, and the series that birthed it.
I can say with great relief that it is every bit the work I had hoped for.
Like RAGAMUFFIN and SLY MONGOOSE, THE APOCALYPSE OCEAN follows a cast of ordinary human beings as they become entangled in the interstellar affairs of various warring factions of humankind and aliens alike — namely, the "ragamuffins" of the Xenowealth and the League of Human Affairs; cyborgs with superhuman strength and survival capabilities; engineered human pets and slaves liberated from their Nesaru "Lords"; and the hooded monstrosity known as the Doaq, a robed figure that stalks the island of Placa del Fuego at night, swallowing up unfortunates with the wormhole that serves it for a mouth.
The novel's true payoff isn't the relentless, breathtaking action that carries much of the plot, but rather its heady climax, which reveals a great deal about the Xenowealth universe's ancient past; its vast, ocean-like network of wormholes; and the origins of certain antagonists from the previous two installments in the series.
The ideas presented in this entry of the series are rich and inventive, arise naturally as the story demands, and serve to remind the reader that often throughout the Forty-Eight Worlds, things are never quite so simple as they seem. Despite the hopeful note THE APOCALYPSE OCEAN ends on, the reader is left certain that enemies far fiercer, and countless in number, await its cast of flawed but lovable antiheroes in the fifth and final book in Buckell's saga, which is to be called DESOLATION'S GAP. —Alex J. Kane