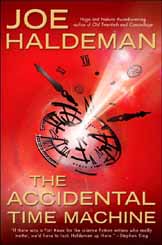 Joe Haldeman has nothing to prove as a science fiction writer. His bibliography includes enduring classics and multiple award winners, and his following and appeal is such that he could probably just phone in a book or two every year and make a decent living for himself. That's one of the reasons his newest book, THE ACCIDENTAL TIME MACHINE is so great, because it didn't have to be.
THE ACCIDENTAL TIME MACHINE follows MIT graduate student Matt Fuller. He's got a semidetached geek's-eye view of the world; he deals with problems in his life – from bringing food to his snowbound mom to dealing with his girlfriend breaking up with him – scientifically, breaking them into component parts and proceeding methodically. This is extremely lucky, because when a glitch in a calibration device leaves Fuller with a working time machine that goes further into the future with every jump, he decides to play around with it when most people would just freak out and call the newspaper.
But Fuller sees an opportunity for discovery and glory and ends up flinging himself though the fourth dimension mostly, it seems, because he wants to see what will happen.
While some of Fuller's destinations are indeed bleak, THE ACCIDENTAL TIME MACHINE is by no means dark. In Shakespearean terms, it's really a comedy – a romp, even. The time machine gets Fuller into and out of various jams and pickles, and the far-distant futures that he encounters are grim, hilarious and brilliant speculation.
Time travel is an oft-plowed field in the genre, but Haldeman surpasses most of the other efforts with rock-solid characterization, great speculation and a deft writing style. He has so perfected his conversational style of prose that the novel reads more like a dialogue between writer and reader; maybe this stems from the fact that the author has no need to hide behind literary conceits and external opinions. He has his own opinion of what modern science fiction should be, and in executing his ideas, is doing his part to define the genre. –Ryun Patterson