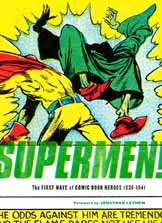 During the Golden Age of comics, partners Joe Simon and Jack Kirby created a legendary superhero who's just as strong and popular today: Captain America.
And they also worked on Blue Bolt. Hey, they can't all be winners.
There's a reason we don't remember Blue Bolt today: He wasn't anything special. But, after roughly seven decades, what was once mundane has become utterly fascinating in Fantagraphics' superb collection SUPERMEN!: THE FIRST WAVE OF COMIC BOOK HEROES 1936-1941, wrangled with remarkable judgment by Greg Sadowski, wrapped in a loving foreword by novelist (and part-time comics scripter) Jonathan Lethem.
SUPERMEN! contains 20 stories from a rather prolific five-year span for the industry, and any self-respecting comics fan is going to eat them up like a Saturday-morning bowl of sugared cereal … and slurp up any leftover milk. If there's a better gift of comics history this year … well, I'd no doubt fall in love with that one, too.
With contributions from Bill Everett, Dick Briefer, Gardner Fox and Basil Wolverton, you'll recognize many a name among the talent, but not the stars. As the book progresses chronologically, the proceedings only get crazier. Much of this work recalls the style — or lack thereof — of Fletcher Hanks, the cult fave who is represented here with a Stardust the Super Wizard story, as well as one for Fantomah, Mystery Woman of the Jungle, thereby pleasing disciples of I SHALL DESTROY ALL THE CIVILIZED PLANETS!
These guys are not operating at their peak powers. (The exception may be Jack Cole, whose star-spangled The Comet and The Daredevil exude a mischievous sense of humor, all intentional.) And first up is none other than Superman fathers Jerome Siegel and Joe Shuster, with Dr. Mystic: The Occult Detective, the only black-and-white story of the bunch. It's as simplistic as all their other would-be heroes, which only reinforces the theory that they really lucked out with the Man of Steel. For them, lightning struck once.
Will Eisner may have displayed much brilliance and broke ground with The Spirit, but not so much with The Flame, the red-and-yellow fellow so named for his "flame gun," and Yarko, the Great Master of Magic, a turbaned man with the power of telepathy.
Other early heroes forgotten by time include:
• The Clock, a fedora-wearing detective whose face is covered by what looks to be a black napkin;
• Flash Gordon wannabes with the not-so-out-of-this-world monikers of Dan Hastings and Rex Dexter;
• Fero, Planet Detective, who lays it all out on the line with "We have to stamp out these vampires of Pluto that have invaded the Earth!";
• Marvelo, Monarch of Magicians, whose powers seem endless with cries of "Kalora! Cyclone appear!," "Kalora! Become pigs!" and, best of all, "Kalora! Guns become spongy!";
• a radio announcer who dons a monster mask to become The Face, all the better to investigate "poisoned turkey food"; and
• Silver Streak, who battles a streak of giant bugs and bounces all over the place so quickly, he appears to have ADD.
With fairly extensive notes on each story in the back, Fantagraphics has done an amazing job in assembling this unique and colorful curio. One hopes the SECOND WAVE isn't far behind. —Rod Lott