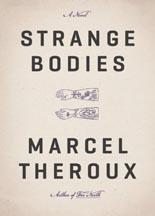 One of the tricks of a certain strain of horror emerges with what Marcel Theroux in this compelling novel calls "dislocation." Readers are stricken by a feeling that the depiction of familiar events and settings, like a word repeated until it separates from sense and becomes a discomforting babble, suddenly slips into something more perverse and deeply strange. The world is recognizable, but — wait! — not.
Theroux's STRANGE BODIES delights in the way repetition pulls the rug out from under the real, opening up hidden, dizzying drops into the fantastic.
The novel opens with an epigraph from Ovid, in Latin, followed by two different translations that subtly shift the sense of the original: "shapes transformed to bodies strange" becomes an account of "how bodies are changed / Into different bodies." Maybe such shifts are small points of distinction, but is there some essential meaning or identity that recurs in each version? Or do the changes in the text transform what the text is, or means?
I fiddle with that opening and such highfalutin' academic questions because they slyly set the stage for the novel's plot, as a man walks into a bookshop and accosts its owner, claiming to be Nicky Slopen "back from the dead." Despite Nicky not "looking the same" — after so many years, "which of us did?" — the owner is certain it's the man, until she comes upon a newspaper account confirming Slopen's death.
The text that follows she presents "just as I found it," and we get Nicky's first-person account of his life and post-life travails, sucked into a bizarre body-switching plot where a Russian "Procedure" uses a person's language to resurrect their consciousness. To say much more would undermine some of the neat twists and revelations Theroux pulls from his conceit, and I would emphasize how much fun the novel — and the reader — has in tracking the pseudoscience, the vaguely criminal conspiracy, the hapless protagonist's blunders and stumbles as he tries to make sense of the clues. Theroux may have some Deep Thoughts, but the novel is a sleek, often funny ride, as well.
I say the book is "funny," but it isn't all shape-shifting and giggles; Nicky's struggles achieve an emotional wallop. But the author's witty prose consistently provokes laughs. A sinister businessman advises Nicky that he "never understood the attraction of the moral high ground," as it seemed "an overpriced piece of real estate" and "the neighbors are a pain in the ass."
And the novel's philosophical play is a gas. Many reviewers have noted the constant allusions — in form, style and conceptual resonance — to Mary Shelley's FRANKENSTEIN, and Nicky — shambling about, musing on his identity and his misshapen form, comes across as a sly update on that monstrous Adam. I also heard echoes of Amitav Ghosh's glorious sci-fi/body-switching mash-up THE CALCUTTA CHROMOSOME of 2001, which also delights in teasing together conspiracy, history, quasi-scientific details and the skeletal frame of a thriller in order to play with some serious questions about self and other. Such intertextual repetitions — like the poem repeated in different translations at the novel's beginning — amplify the novel's core concerns …
. . . if you're into that thing. I am, but I also dig when you can just rip along, surprised and even made "sick and dizzy" by the uncanny thrills of the plot. STRANGE BODIES is another eccentric pleasure that, like Jeff VanderMeer's recent (and also excellent) ANNIHILATION, complements its heady conceits with straightforward narrative pleasures. —Mike Reynolds