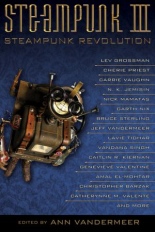 After editing two earlier anthologies of steampunk stories with her husband, Jeff — as well as several related titles devoted to the subgenre — editor Ann VanderMeer decided to use the occasion of a third anthology to seriously examine the potential influence of this much-beloved retro-futurism.
 
"I was interested in looking at how Steampunk could change the world, could really make a difference," she states in her introduction to STEAMPUNK III: STEAMPUNK REVOLUTION. "Just as traditional sciences fiction uses the future to discuss issues that concern us now, Steampunk fiction can use the past (or alternate pasts) to bring to light issues that we might otherwise have trouble discussing."
The 27 stories gathered here are therefore noteworthy both because of their subject matter as well as for the way they stretch the stylistics of Steampunk in new and different directions.
Carrie Vaughn's "Harry and Marlowe and the Talisman of the Cult of Egil," which leads the anthology, tells the tale of an adventurous couple during World War II who steal an alien artifact, worshipped by a barbarous Icelandic cult, escape in their zeppelin and evade a German blockade in order to bring the artifact to London in hopes that it will end the war. The high adventure and harrowing escapes feel very traditionally steampunk, until we learn that the intention is anything but self-centered.
 
"The Stoker Memorandum," by Lavie Tidhar, imagines Bram Stoker, who would later write the seminal horror novel DRACULA, recalling his role in a conspiracy to overthrow the lizardine masters ruling the earth — the same scaly villains featured in Tidhar's "Bookman Histories" series (THE BOOKMAN, CAMERA OBSCURA, etc.).
 
Bruce Sterling's "White Fungus" is a notable departure for this celebrated cyberpunk author. In somber tones, Sterling presents the story of an architect's plan to rebuild on the ruined, junk-space known as White Fungus that was once his hometown, and of the mysterious woman who helps him realize his dream. Filipino author Paolo Chikiamco, in "On Wooden Wings," imagines a pair of university students from different and factious cultures who join forces on a building project assignment and slowly learn to look beyond their learned prejudices. 
 
The most surprising and distinctive feature of STEAMPUNK III is the inclusion of four nonfiction essays (three written exclusively for this publication) that explore steampunk and its future. They range from "Winding Down the House: Toward a Steampunk Without Steam," where Amal El-Mohtar throws down the gauntlet with his opening sentence, "I want to destroy steampunk," to Jaymee Goh's far less inflammatory "From Airships of Imagination to Feet on the Ground," which details and explores the issues and topics the subgenre must address to be truly revolutionary.
 
New readers curious and hoping to make sense out of all the goggles, gears, knickers and other Victorian-style trappings would do well to seek out the previous two VanderMeer-edited STEAMPUNK anthologies. For the initiated and devoted, STEAMPUNK REVOLUTION is an earnest yet entertaining and enlightening glimpse at the probable power these kind of stories hold. —Alan Cranis