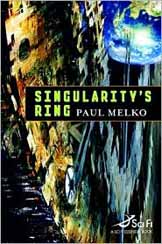 Big, hardcover science-fiction novels from first-time novelists — which Paul Melko's SINGULARITY'S RING is — usually get published because a publisher can hang an easy hook on them (with quotes from big-name authors saying "like NEUROMANCER … on speed!") and they easily fall into slots in a publisher's slate. ("THE ROAD is really hot right now. We need a post-apocalyptic dystopia stat!")
These big, hardcover science-fiction debuts are not normally terrible, but are many times mediocre and better suited to being throwaway airport paperbacks than big, hardcover novels with a "Sci Fi Essentials" tag on them. Is it obvious by now that there's a big "but" coming?
SINGULARITY'S RING has endorsements on the cover and will probably get lumped in with other singularity-themed (see http://en.wikipedia.org/wiki/Technological_singularity for a better explanation than I can give) fiction. But it is really a quite excellent book that takes a supremely different tack on a quickly tiring theme.
Apollo Papadopulos is the protagonist of the book, and initially its hook is that Apollo Papadopulos is a compound organism — a "pod" comprising five "singletons" with genetically altered bodies and brains and conditioned to find consensus and act as a single entity.
The Earth has evolved since The Singularity, in which much of the population is thought to have either evolved beyond human understanding or gone somewhere — another dimension? — that the remaining population can't fathom. Left behind is a giant ring of technology encompassing the Earth, powered down and inoperable by the remaining humans, both the compound "citizens" and single humans that won't or can't join a "pod" and be part of a compound entity.
Apollo's individual components — Moira, Meda, Manuel, Strom and Quant — each have their own special qualities, and as the book opens Apollo is competing against other top-flight compound beings for a prized spot piloting a newly constructed space. Melko's initial chapters are Heinlein-esque in their depiction of youngsters striving and daring to reach their dreams, but that innocence is lost quickly, and SINGULARITY'S RING evolves into a complex thriller about control, jealousy, bitterness, self-determination and, of course, boat chases through the Amazon.
Melko's conception of compound humanity is reminiscent of Theodore Sturgeon's MORE THAN HUMAN, and Melko never gets bogged down in his own inventiveness, doling out subtle, easily grasped expository nuggets in equal time with plot points and peril.
Secrets of the past are revealed, but hints at the future are few, and while many big, hardcover science-fiction books by debut writers do this to set up a sequel or trilogy or ongoing series, SINGULARITY'S RING has broken so many of the other conventions that maybe the end is just the end — indefinite and uncertain, like life. —Ryun Patterson